Personalized Umbrellas as Wedding Favors
What if you  find some great wedding day gifts that will also double up as photo props and stylish accessories all at once? Custom umbrellas will fit into all these bills with ease. Personalized umbrellas are a great way to indirectly greet out-of-town guests, while thanking them for traveling for your special day. Here are some ideas for creating distinctive wedding umbrellas that inspire excitement.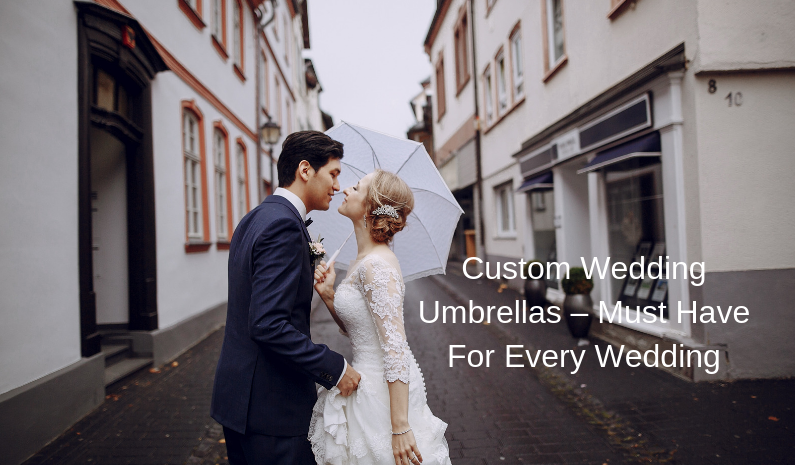 Everyone appreciates a stylish, handy umbrella if they are attending destination weddings that will involve sightseeing or even bad weather days. Even after the wedding, your guests will  continue using these umbrellas.
Make it extra special by getting a wedding tagline, a motif or the initials of the couple that is consistent with your wedding theme. Bubble umbrellas will make a great choice in winter weddings as the guests can see the pretty outdoors from beneath the umbrella even when there is rain or snow. The spectacle of  the couple and the guests sporting these pretty , personalized umbrellas will be a sight to behold!
If you are planning an outdoor wedding, stock your welcome baskets with logo umbrellas that will enable your guests brave the elements. The best part is that even when the weather Gods have been benevolent to you, your guests will still be able to use these items at some point in the future.
Your guests will appreciate having something useful like umbrellas while they wait for your ceremony to start outdoors.  The massive canopy and the fabulous color choices will give you ample creative scope for you to customize umbrellas the way you want.  Fashion umbrellas or mini umbrellas  are perfect options considering the compact size and the convenience to carry it around in the wedding venue and outside.
If you are looking for something unique, you  can consider interesting models like inverted umbrellas or hands free umbrellas, which are the most trending on the list. Your recipients will have yet another reason to remember your wedding day when they have these  value added gifts. The big plus is that anyone who sees these unique umbrellas will be tempted to ask your guests about the fairy tale wedding and the fabulous gift choices that you made.
 Chances are your guests are not well prepared for the sudden change of weather for the worst  while they're at your ceremony and reception. Just think how thrilled they will be to find a solution waiting inside their gift baskets. These high utility gifts of umbrellas will ensure that they stay dry and stylish all through the event right up to the photo session with the happy bride and groom at the end of it all.
Liked this article? Be the first to share it and spread the word across your favorite platforms.