Custom Umbrellas Make Perfect Swag For Story Telling Marketing
An interesting story telling approach will give your marketing a clear upper hand to cut through the clutter.  To weave in a surprise element to your story, you need interesting handouts that will remain as lasting reminders of the story telling branding experience.
Custom umbrellas will make a perfect choice for this type of marketing. The generous imprint space plus the countless choices on offer will make umbrellas a top choice. Offered in a range of price points, umbrellas  can be easily aligned with any branding theme or strategy.
Here are a few interesting ideas to use custom umbrellas that you might not have thought about.
For Hotels and hospitality industry
Hotels can exploit the promotional potential of umbrellas the best with some clever creative customization . A marketing staple for hospitality niche, branded umbrellas can be given as gifts to every guest who goes out of your doors for a day outside. Your  tagline, unique selling point or a bit of history of your hotels will all make interesting information to strike up a conversation with the guests and evoke interest in their minds.
Choose from a wide range of models including the classic wooden hook handle models. If your hotel has a golf course, golf umbrellas make a superb choice while beach resorts get the advantage of using these pretty beach umbrellas as their swag!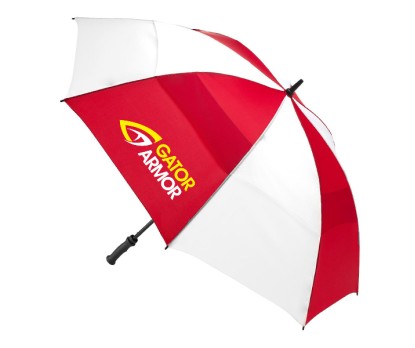 Charity Giveaway Umbrellas
Businesses that are actively involved with social causes and charities enjoy better goodwill and patronage from customers. Reports show that charity and social commitment make a great influencing factor for customer while choosing brand s and businesses.
Logo umbrellas make great gifts for donors to make them feel well appreciated and to foster a solid relationship. The incredible color choices in custom umbrellas will make it easy for you to match  the theme of your awareness event with your logo gift. For instance, a pink colored umbrella for breast cancer find raising or a red colored umbrellas for AIDS awareness will convey your message effectively and in a subtle way.
Logo umbrellas make a superb choice as promotional giveaways thanks to their ease of customization, affordability and their utility. Whether you hand these out as a gift  that makes your interaction easier or as handout   on the closure of a deal, umbrellas make well cherished gifts that your customers will always love receiving.
Explore our vast collection of promotional umbrellas that will enhance the story telling marketing experience. For more information or tips reach out to our product team or watch this space for blog updates.