Marketing  Benefits of Custom Umbrellas
Custom umbrellas are one of the most popular and widely used custom products in marketing especially when businesses need to get their message across to a wide audience with ease. Ever wondered what makes imprinted umbrellas such a hot choice in promotional items.
Here are some of the benefits that make custom umbrellas popular.
Protects the users Effectively
The primary purpose of umbrella is to protect the users from elements. These essential items also double up as stylish accessories that boost the outdoor profile of your recipients. Offered in a wide range of models and colors, custom umbrellas can be matched with their trendy outfits as well.
Trendy
Umbrellas are not just designed to withstand bad weather, but these also keep up with the latest style trends. Customize it with your brand and message to make it trendy and attention grabbing. Your brand logo will also look perfect on the canopy as a brand reminder for your customers. You can even choose umbrellas  in different colors that match your signature brand color. The possibilities of how you design umbrellas cases are endless, which also open up many opportunities to expose and build up your brand.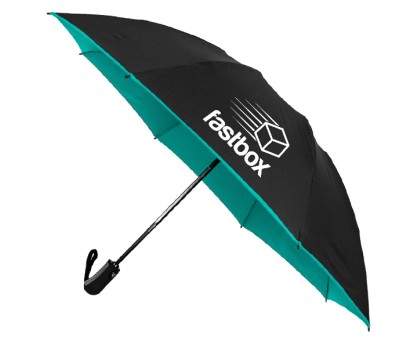 Complement Different Lifestyles
Umbrellas come in many different designs and styles to  offer something special for everyone. From standard umbrellas and classic colors for the conventional crowd to flashy prints and inverted designs for the youth to golf umbrellas and beach umbrellas for the outdoorsy, there is something for every call in custom umbrellas. Just pick the right model and match it with your audience for the best results
You can also customize umbrellas to target various types of people from different walks of life. From mild to wild and everything in between , you can adopt any creative pattern to impress the audience.
High perceived value
Custom umbrellas are handouts with a high perceived value, which makes these well retained gifts.  People will always cherish the thought of getting high quality gifts like umbrellas, which are designed to look good and last long. As your audience  tend to relate the quality of your brand with the quality of handouts that they get, custom umbrellas will portray and elegant brand image that will put you ahead in the competition.
 Practical 
Everyone needs umbrellas at some point of their life to stay safe from bad weather. Another benefit of having  umbrellas as gifts is that customers can easily  use it the moment they get it for free, which in turn will put your message on a display right away. Logo umbrellas reinforces your customers' sense of trust in your brand because these gifts make lives easier for them.
What makes custom umbrellas your favorite swag? Share your ideas with us on our facebook page to join an interesting conversation.