Improve your brand identity through promotional beer logo umbrellas
Are you looking for an innovative promotional idea to market your beer? Well, you have a list of options. But being a brilliant entrepreneur, you must focus more on the exposure of your product in the maximum vicinity of the customers. This could be get done by placing custom beer logo beach umbrellas elegantly imprinted with your brand name on it. Get your customers a cool canopy to enjoy their chill out in the beach on a weekend. Gifting is always a great way to express your gratitude. It brings the real meaning and feeling only when you gift the person with something that is quite often useful in their life. Custom beer logo umbrellas are one such fabulous gift.
Everyone loves to be in the beach and enjoy their day washing away all stress and strain of their life. But to enjoy it to the fullest, they should have a better shield against scorching heat of the sun. Then the best option is a custom beach umbrella. Hotels, beach side restaurants and resorts offer the best merriment for their customers by providing them with quality beach umbrellas. You can make use of this instinct of customer satisfaction to promote your brand name. Get a bunch of quality custom beach umbrellas and imprint it with your logos. Distribute such beer logo umbrellas among the resort, hotel or restaurant owners who sell your products.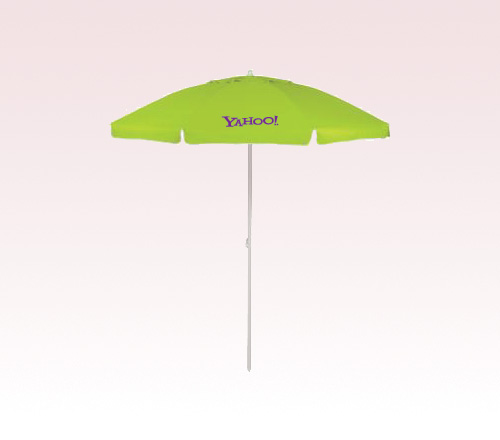 While heading towards sea, one must have sufficient beach accessories. Beach umbrellas are one such essential. But people are normally hesitant to carry it always as they are big in size. Here comes your chance to offer them a wonderful shade by providing a custom beer logo umbrella. It helps people to lounge by the shore without worrying about too much sun burn. This will be very useful in the hotter months when people really want to enjoy some cool hours on a beach side.
Beach umbrellas offer a large space to imprint your beer logo. Thus your brand name gets noticed even from a longer distance. Since these beach umbrellas come in attractive colors and sizes, people will definitely remember your brand name as they visualize it on an eye catching surface. Beach umbrellas definitely create an intimate ambience for the beach lovers. They can spend some beautiful moments with their loved ones under such a wonderful canopy. No one ever forget the wonderful moments of togetherness. Then they will definitely remember your brand name over their canopy of those wonderful moments.
The beach umbrellas are designed with maximum seaside safety. They are durable enough to withstand strong wind and rain. They could be even used as fixtures in parks or pool side of the resorts. Beer logo umbrellas will definitely catch the attention of those who really want to make their vacation a sizzling one. You can definitely add more colors to their funny moments by offering the shades of your beer log umbrellas.
Beach umbrellas definitely enhance the ambience. Give away the best beach umbrellas with your beer logo to add to the beauty of the atmosphere. Be in the public eye through the cool custom beer logo umbrellas. Your brand name will definitely strike the mind of the people when they think of a fizzy drink.