5 Reasons Why You Should Use Custom 42 Inch arc logo Folding Umbrellas for Branding
Custom folding umbrellas have been extremely popular on the business gifting scene for long. They have been largely sought over promotional gifts because marketers felt they gave them enough reasons to smile and enjoy success for long time. Custom 42 inch arc logo folding umbrellas may not be latest entrant in the bandwagon of popular promotional umbrellas, but they are definitely the most sought after choice. What makes them special? Here we have tried to elucidate 5 reasons why these umbrellas make one of the most preferred gifting choice amongst marketers of all genres –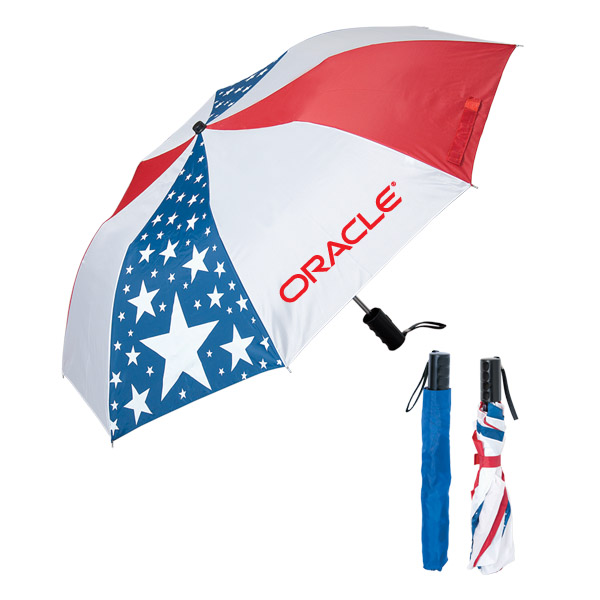 Easy Manageability – Being easily manageable within bags or purses, marketers and users both envy it. Recipients can manage it within their purses or bags or pockets and marketers can easily carry it in bulk in small transporting bags, when they plan to gift it during tradeshows or other business gatherings.
Abundance of Choices – Although you may get 38" inch folding umbrellas, but there is always abundance of variety for a 42 inch arc folding logo umbrella. These umbrellas can be availed in different colors, functions ( manual or auto-open) and budget sizes depending on the material of construction. You can come across abundant choices on most reputed umbrella stores operating online. You can take time and choose them as per your requirements and budget.
Large Imprint Area – For many 42" arc umbrellas are like any regular folding umbrella, which offers them enough coverage over heads. However, for a shrewd marketer it translates as a large imprint space. Marketers can manage to get their logos and other business information imprinted on the canvas and stay assured that their logos are going to be seen from moderately large distances. People can easily read the imprint on such umbrellas from little large distance, too.
Cost Effectiveness – Cheaper is not a term that you usually associate with any promotional umbrella, but cost effectiveness is definitely a more appropriate choice. You can stay assured that this investment is going to be cost and value effective. You can cut down on prices by bulk ordering these umbrellas from any popular online stores selling promotional umbrellas.  Here cost effectiveness factor gets prominently highlighted because people may not easily like to part with this umbrella than other promotional gifts.
Suited for Gifting Throughout the Year – You have certain limitations, when it comes to marketing with other promotional umbrellas (such as golf umbrellas work best, when golf season is in progress, or wind proof umbrellas are suitable for rains), whereas there aren't any such hiccups with gifting folding umbrellas. They are widely loved by men, women and children because all can carry and easily manage them. This makes it one suitable gifting choice throughout the year.
Buying good quality customized 42 inch arc logo folding umbrellas from a reputed online store selling custom umbrellas may further leave you entitled for free online design proof, free art set up and free shipping.