21st June Is Summer Solstice- Plan Your Promotions With Custom Umbrellas
June 21st represents the official first day of summer though people have been planning their summer trips right from the middle of spring. June 21st still will make a wonderful opportunity for marketers to pack a punch to their summer promotions by including some appropriate swag in their marketing mix that will go well with the summer theme. Umbrellas make a brilliant choice considering the unique advantage of an impressive display at low costs. Offered in a range of attractive colors and panel designs, custom umbrellas will never fail to turn heads. Put your brand and mascot on these and see how these logo items will put your brand the talk of the town literally. The sheer multitude of options is another reason that makes custom umbrellas exciting promotional items.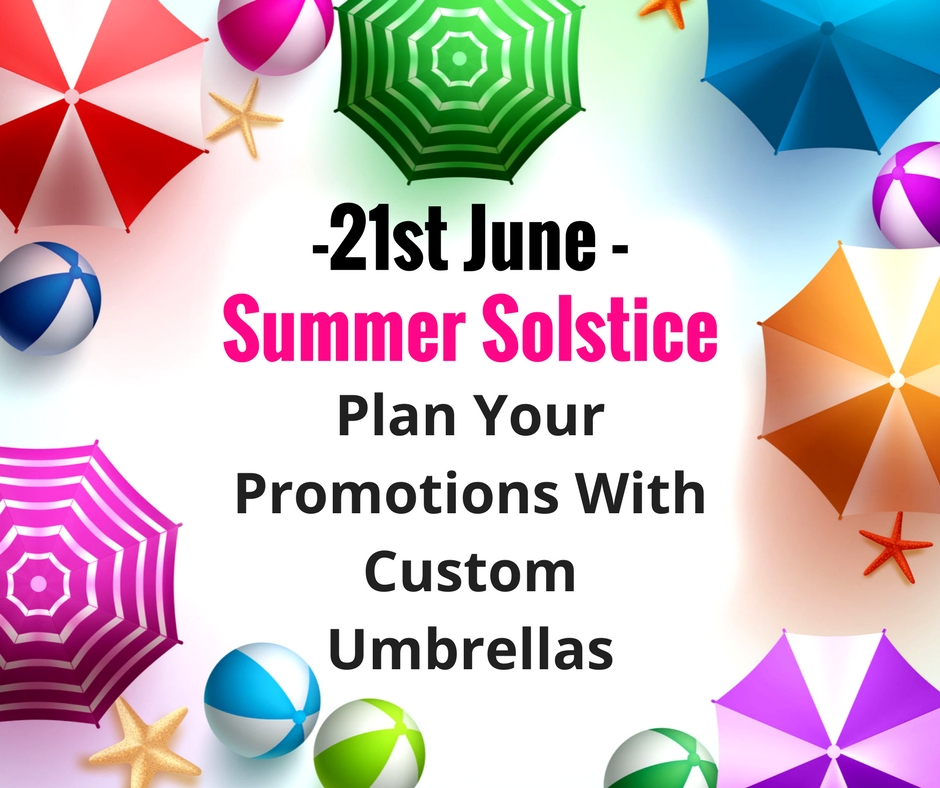 Here are some of the models that you will find inspiring
Golf umbrellas
Summer is the best time for people to indulge in a relaxing game of golf in the vast green all over the country. Apart from offering some high quality social time, the game offers ample scope to unwind after a hectic day at work. Customize these jumbo sized umbrellas with your brand and message and get people talk about your brand as these bright and bold brollies keep the players and their golf kits safe from rain and shine. Customize these with your brand and message to turn these custom golf umbrellas into a walking talking billboard for your brand. Choose from a range of sizes from 46" to 60" and everything in between and make your message stand out!
Patio umbrellas
Beach holidays, picnics, tail gating parties and more… most people will have a lot of events lined up for the summer season. These custom patio umbrellas will make a great way to kick start your summer campaigns while your recipients can chill out under its massive canopy. True win – win situation. Customize these patio umbrellas with your brand and message and see how these logo items will make your brand part of their holiday memories. Consumer behavior analysts opine that brands that enhance the well being and happiness of the shoppers are much more likely to be remembered. So, do not let this golden opportunity to please your audience slip off your fingers!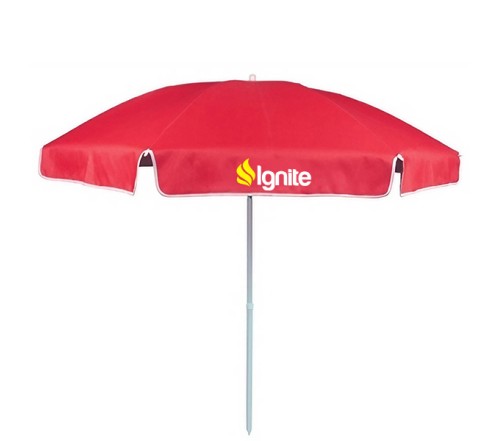 Antiwind umbrellas
Ideally umbrellas should not just shield the users from weather elements but also be durable and long lasting. Check out these custom antiwind umbrellas that will withstand high wind conditions as well. Functional gifts like umbrellas that your recipients will find useful in their daily lives enjoy a better retention than gifts that have only novelty value. These custom antiwind umbrellas will enhance your brand exposure and loyalty manifold and everytime your recipients take out these on a stormy day, your brand on these will stand tall!
We have an impressive line-up of custom umbrellas in all possible models and colors. Which one is your favorite model? Share your thoughts in the comments section to set the ball rolling by starting an interesting conversation.