4 Benefits of Logo Umbrellas that You Might Not Have Thought About

Promotional products like umbrellas are popular all round the year. It will reinforce your marketing plan and take your message to a wider audience in no time. There are huge benefits to businesses that give away promotional products like umbrellas . Custom umbrellas will let your customers to interact with your brand on a physical level to create brand loyalty. Besides, it will create a memorable experience in their minds. The best part is that custom giveaways can be used in tandem with other promotional strategies like social media.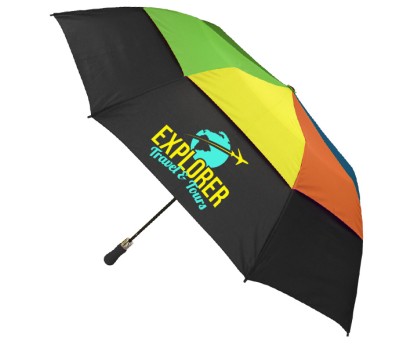 High visibility
The visual aspect of logo umbrellas is one reason that make them so effective. Reports show that as much as 62% of people remember the name of a company after they receive a promotional product. Thus it will ensure a great return on investment compared to traditional methods like radio or television advertising.
Umbrellas are practical
Umbrellas are something people will use over and over again. Each time your recipients use it, your brand image will get stronger. Highly visual products like umbrellas also arrest the attention of anyone who happens to see it. So, just think of the impressions your brand will make when people use these almost every day.
By choosing a trendy custom umbrella , your recipients will become your brand advocates . Every time they step out and use it, they are advertising your brand to the world outside without even knowing about it.
Umbrellas have a high perceived value
Umbrellas are not cheaper for sure. But when you think about the advertising benefits, it is worth it. Umbrellas have the highest retention of 14 months or more. So, you need not be surprised even if you see your clients using a promotional umbrella you gave out years ago. During all these years, logo umbrellas have been advertising your brand and make consistent impressions at one time investment. Is it not great if you come across a promotional item that will keep on working for your brand without any repeat effort from your end?
When you choose high value giveaways like umbrellas for your regular customers, it will instill a sense of belonging to your brand in your recipients . Moreover, your clients will appreciate handouts like umbrellas.
Dynamic
Umbrellas are universally popular and will not jut out in any promotional setting. You can use it as an effective marketing tool by making it a free gift with purchase, a fund raising items, referral giveaways and more . Ideal for all types of business verticals and businesses, custom umbrellas will create a lot of interest among the audience.
Apart from rewarding your existing customers, logo umbrellas will also make new leads and enhance your brand reach. Everyone will love value added free gifts like umbrellas. It will leave a lasting impression of your business in them when you include them into your marketing strategy.
Looking for a fail proof custom giveaway that will project your branding to a new high. Look no further than custom umbrellas. We are sure you won't be disappointed. Browse our collection of logo umbrellas to choose a model that will impress your audience and promote your brand alike.