Custom Umbrellas- Marketing Tools That Demand to Be Noticed
Umbrellas come handy on a scorching hot summer day or a rainy idea alike. So, everyone carry umbrellas to stay safe from weather elements. The high utility of custom umbrellas is undeniably its the trump card as marketing tools . Available in various models and sizes, you can easily choose a model that will match your theme.  
Umbrellas  are 100% customizable. Marketers can make the best use of the generous canopy to place their brand and message. It will certainly stand out and get noticed even in crowded events. The best part is that umbrellas will make a perfect choice for all types of promotional needs.
Style meets substance
Make your branding really wide angle and bring tremendous recognition for your company with promotional umbrellas! Visually appealing but incredibly functional, logo umbrellas will clearly differentiate your brand from your competitors. Make use of different printing options that let you print your message on one panel, alternate panels or even the whole canopy to enjoy 360-degree advertising wherever your prospects go. If you  prefer an understated imprint, you can place your artwork on the inner panels or even the handle of the umbrellas to make it visible to your target audience without being overwhelming.
Umbrellas are Highly Useful
Handouts like custom umbrellas are something people use frequently and hence it can easily help spread your business name and message.  Choose from a wide range of interesting models that range from standard umbrellas to  something unique like inverted umbrellas or flashlight umbrellas among others. Combo models like speaker umbrellas area  rage among the party centric outdoorsy crowd. 
Golf umbrellas that are sturdy and lightning resistant will make a great choice for any golf themed event. Antwind umbrellas will never fail to impress your audience. Designed to withstand high winds without getting toppled over, these  umbrellas will easily address  one of the most common rain day woes of your clients
 No matter, which models you wish to choose, it is certain that your message printed in full color on the panel will never be missed.
Umbrellas have a high perceived value
Umbrellas have a high perceived value, which makes it ideal for all types of branding purposes. When you need something exceptional for your high profile events or clients, you can confidently choose custom umbrellas. In addition, it has the highest retention of over 14 months among promotional giveaways. Thus, your brand on it will make consistent impressions for a long time even after the event gets over. It is this long term branding power of umbrellas that make it an incredible choice as promotional swag.
Increase your company's exposure with promotional umbrellas, branded with your message.  Umbrellas will never look out of place in any event. So, whether you wish to use custom umbrellas as trade show swag, Christmas gifts or promotional swag, your recipients will indeed be excited to get these elegant and practical items.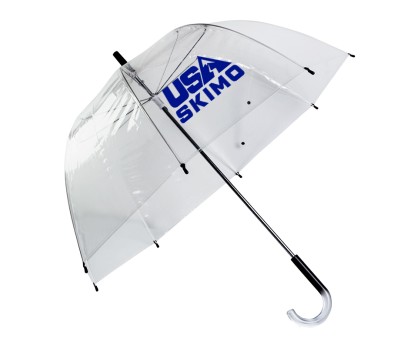 Available in a wide-variety of colors, these can complement any promotional theme as well. Besides, umbrellas make a constant reminder of your brand and goodwill gesture alike. Thus logo umbrellas will enhance your gift giving experience to the next level and will ensure that your handout will take its pride of place.
Are you planning to use custom umbrellas as your swag? Explore our collection to choose a model that suits your needs.