Why You Need Promotional Umbrellas as Your Merchandise
Umbrellas have always been popular giveaways among marketers to  spread their word  and promote events. Nobody can resist these massive and colorful custom umbrellas printed with your brand or mascot.   Wonder what makes umbrellas an incredible branding tool? Here are some winning points of logo umbrellas.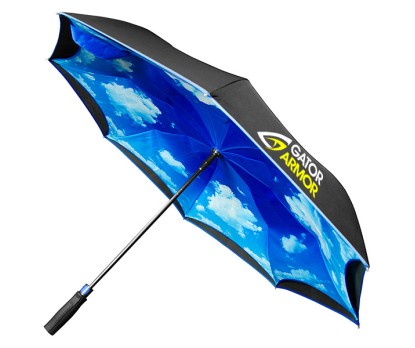 Popular
Custom logo umbrellas enjoy an amazing fanbase. So, no matter what your audience type is, umbrellas will make a perfect choice. Customize it to promote your brand, raise funds and garner support for your social cause or highlight your team colors. No matter what your objective is, custom umbrellas will make a great choice. When it comes to your target audience, logo umbrellas hold the rare distinction of being an absolve crowd pleasers among people of all age groups and demographics.
Umbrellas are giveaways with a high perceived value
Promotional umbrellas have a high perceived value and will put your message on a display for an extended duration. Easy to customize to fit your needs and available in various models, custom umbrellas tick all the boxes of an ideal promotional swag.
Keep Your Brand Top of Mind
While digital ads pop in and out in flash, often failing to leave a lasting impression, well retained giveaways like umbrellas score extra brownie points for being a long lasting reminder for your brand . These marketing tools stand the test of time, tech, and trends and keep your message top of mind of your audience. Just think of the impressions your brand will get every time your recipients open the umbrellas. It will indeed keep your brand stand out in the competition.
Something special for every call
Umbrellas are not basic and functional any more. These days,  you can choose from a wide range of models to suit the unique needs of your audience. For instance, if you are looking for wedding favors, choose transparent umbrellas  that will keep  your guests safe from elements while enhancing the wedding milieu.
Golf umbrellas
Another popular model includes custom golf umbrellas. It is popular not just among the golfing community but everyone who has a taste for finer things in life. Large enough for two people, these vibrantly colored umbrellas will make heads turn in every event. Customize these umbrellas with your logo and message  and print in full color with sublimation process to get easy attention.
Handy models
Looking for a handy umbrella model for your travelling crowd?  Choose three fold umbrellas or mini umbrellas that will easily fit their bags. Every time they use these stylish and functional umbrellas, your brand will make impressions on the go.
Strong and reliable
 Windproof umbrellas are designed to withstand even high speed wind. Your recipients will surely appreciate you for having chosen these high utility giveaways. It will protect the users from elements even during stormy weather while your message gets a panoramic display . The fiberglass ribs and shaft enhances its stability while making it lightning resistant.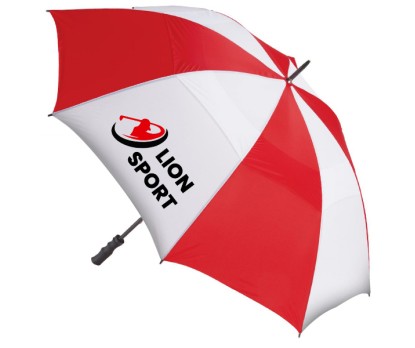 Vented umbrellas have vents on the canopy which allow gusts to pass through the canopy without damaging the umbrella frame. Customize these umbrellas with your brand and message to engage the outdoorsy audience with your message.
Looking for more ideas? Watch this space for daily blog posts.