4 Promotional Benefits Only Logo Umbrellas Can Ensure
Imagine how cool it will be if your sales go up even in bad weather and hostile outdoor conditions? Promotional umbrellas will keep your brand  highly visible and well talked about even when hostile weather grinds your promotional efforts to a halt.
Custom umbrellas keep your customers dry while putting your brand on a wide display. These logo items will thus make your recipients feel reassured and safe while reflecting your brand image. Every time your clients use these to stay safe from sun or rain, your message is spread out to the world. The flexibility and incredible practical value of umbrella makes it one of the top desired items by industries. Walking in the rain turns anyone's smile upside down.
Branded umbrellas will help the users to carry on with their daily activities in all types of weather, during which they will think positively about everything including your logo. If you have not been using logo umbrellas in your promotions these tips will help you get started.
Be unique
When you want something different for your company then, logo umbrellas will make a perfect choice. Available in various colors and trends , custom umbrellas will offer something special for everyone and make your brand stand out. Whether you wish to go with the traditional standard umbrellas or give it a fun twist by choosing inverted umbrellas , you have a wide variety of models to choose from.
You will even find square shaped golf umbrellas or travel size mini umbrellas that will fit any occasion. The vented style umbrella will withstand storm and prevent your customers from embarrassment.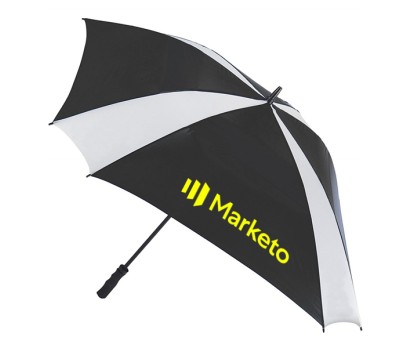 High Visibility branding space
Umbrellas have a massive imprint space that can be exploited to the fullest for highlighting your brand or artwork. You can even choose full color dye sublimated golf umbrellas to make heads turn! Thus options are all yours when you have versatile handouts like umbrellas on hand. It is all a matter of getting your creative juices flowing. Umbrellas will let you go above and beyond to attract the customer's attraction to your brand even from a distance. And for that, a bold colored promotional umbrella will make a perfect choice. Attract your clients' attention and enjoy impressive branding alike with custom umbrellas. Plus, these elegant giveaways will even reflect your company's image.
Versatile
Custom sunglasses will make a perfect giveaway for all types of business and personal events. No matter whether you choose to customize it as milestone gifts, employee appreciation giveaways, awareness handouts or wedding favors, umbrellas will fit your bills with ease. So no matter whatever be the event, you can make use of the charm of these classical giveaways of umbrellas. In a highly competitive business world, often , you need to think outside the box for making your brand stand out among others.
Practical
Everyone needs umbrellas at some point in their life. An umbrella is often the kind of item you don't realize you need until it's already too late. That is yet another reason that makes it a winner among promotional products.
By keeping your customers safe from rain and shine, you can easily create a sense of trust in their minds. It will surely make them come back for your brand over and over again. Explore our collection to choose a model that will match your promotional needs.