4 Reasons That Make Golf Umbrellas Effective Promotional Items
Golf umbrellas are top trending accessories among not just golfers but every genre of people; thanks to its high utility and visual appeal. The sturdy frame and lightning resistant features will make these umbrellas a great choice in the windswept greens. The high quality panels, durable fiberglass ribs and comfortable handle, will enhance the golfing experience of your clients and employees for sure.
Durable
What makes custom golf umbrellas distinct from its ordinary counterparts? It is the highly durable design. Designed to withstand high winds and lightning, most golf umbrellas have sturdy fiberglass ribs and frames. The antiwind vented design and double canopy features, will easily enable golf umbrellas to withstand lashing winds. When ordinary umbrellas may get toppled over in wind, these specially designed golf umbrellas will stand up to display your brand all over the greens!
Incredible customization options
What make golf umbrellas special is its incredible color choices and customization options. Whether you wish to put your message on one panel, alternate panels or even the whole canopy, golf umbrellas will make a great choice. You can even imprint your artwork in full color digital imprint all over the canopy to make eyes pop! Thus, your creativity is the only limiting factor here. So, put on your creative caps to come up with an engaging design to impress your audience.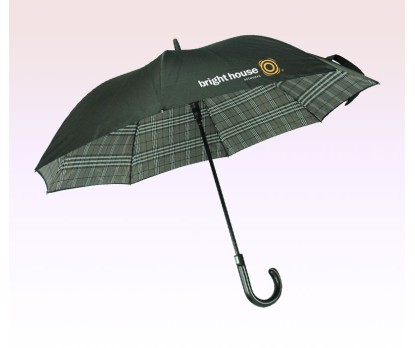 Umbrellas are hard to resist
Everyone likes free giveaways. When you have special gifts like custom umbrellas that are relevant to all types of customers, it will make a lot of difference in the perception of your audience about your brand.
As most people think, popular gifts need not be bank breaking. Logo umbrellas are available in various price rates, which make it easy to choose a model that will match the needs of the advertisers. Low minimum order option will make custom golf umbrellas a great choice even for budget friendly marketing. Marketers can also boost their exposure by handing out umbrellas during milestone events and promotions.
To impress the discerning customers and to stand out in today's hyper-competitive space, marketers need to go that extra mile in making their branding special. High value giveaways like umbrellas will evoke a sense of reciprocity in the minds of the audience. It will inspire them to support your brand. In addition, these everyday items will remain as a tangible reminder of your brand for a long time.
Visually appealing
Further, to gain the attention of your audience, you need to think of creative promotional ideas. The average human only has an attention span of 8 seconds It is 4 seconds less than what it was in year 2000, according to a study by Microsoft! For marketers, these few seconds will make all the difference in the world, between a new loyal customer, and a casual passer-by.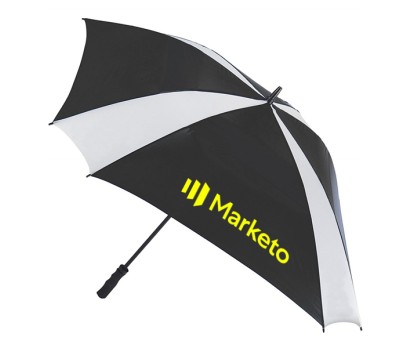 So, marketers strive like never before to stand out ; and make their message heard over the noise of countless social media feeds from their competitors. Impressive handouts like custom umbrellas make a proven way for marketers to get the undivided attention of the audience.
Wish to make custom golf umbrellas your swag? Browse our collection of golf umbrellas to choose a model that will match your branding needs, while leaving the recipients totally impressed.