6 Reasons Why Custom Umbrellas Work  for your Brand
What makes custom umbrellas a better promotional item than some of the low budget items that do the rounds? The first reason is the versatility and utility of umbrellas, which makes it a must have item for everyone irrespective of age or gender. No matter what your business is- whether it is a beach event or a beauty salon, custom umbrellas will make ideal marketing tools.
Everyone needs umbrellas
Leaving your message on it is the best way to stay on top of the minds and right over the heads literally!  Custom umbrellas make value added gifts that will impress even the most discerning customers with ease. Umbrellas enjoy a decent retention of almost 2 years. So, you can imagine the number of brand impressions that these make during its shelf life.
Umbrellas enjoy incredible visibility
Umbrellas stand out in trade shows or on crowded streets. Unlike the static banners, umbrellas are often on the move, which means your message will reach a wider audience.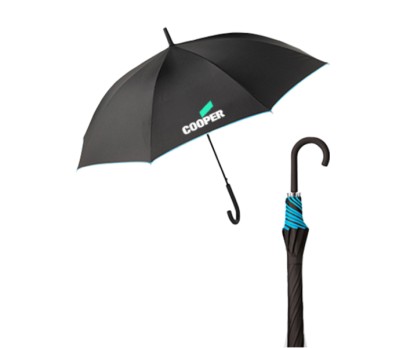 Large imprint area
Umbrellas have a large imprint space that will let you get creative with your artwork or message. Whether you place your design on the whole umbrella or just one panel or the inner canopy, umbrellas give a lot of customization options to fine tune your campaign.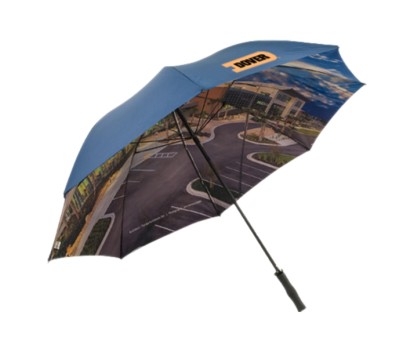 Reach
Outdoor marketing tools like umbrellas are seen by hundreds of different people on a bad weather day as it is portable and used in different locations.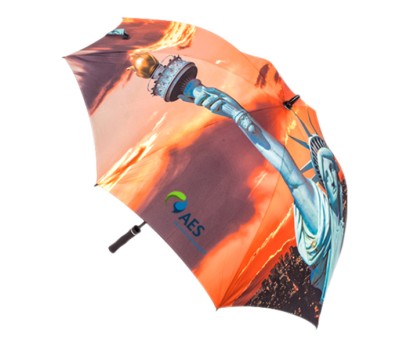 Color choices
The incredible color choices on offer will allow marketers to choose a model that matches their event theme or corporate color which makes it easy for potential customers to identify the brand.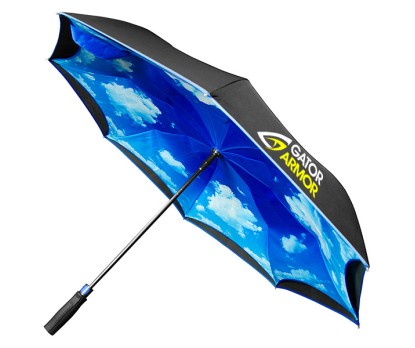 Durability
Umbrellas are designed to last long and withstand the hostile weather elements. A good quality umbrella can be used repeatedly at outdoor promotional events, trade shows, or on the streets.
If you are looking for a promotional item with a high level of brand visibility and that can be used in a wide range of situations, look no further than custom umbrellas. Imprint a company design or logo to turn it into a great mobile marketing tool that is easily seen when out and about.