Custom Bubble Umbrellas Make Classic Fashion Statements
Umbrellas and fashion go hand in hand. These items have always been part of the fashion industry for eons now, yet umbrellas never go out of style. This is especially true in some models like bubble umbrellas, which have left its mark in the fashion map.
Transparent and shaped like a bubble, these umbrellas stay true to its name. Being bubble shaped, these umbrellas curve down like a dome and ensure the ultimate protection to the head and shoulders of the person carrying it. The best part is that the users gets the luxury to watch the rain drops pattering down all round and experience the beauty of rain without getting wet!
Bubble umbrellas hit the fashion arc way back in the 60s with the introduction of clear plastic materials. The trend never really went off after that. Bubble umbrellas make popular choices as wedding umbrellas, promotional items, and even décor items. It makes a perfect handout for many different types of businesses.
Unique and attention grabbing, bubble umbrellas are durable and will go well with every event and accentuates all types of fashion trends and outfits. The compact design makes it practical while the wide range of style choices and buoyant appearance will give it a few brownie points extra.
These ever-green fashion umbrellas have a high perceived value, which makes it well retained as well. Your recipients will love to flaunt these post card pretty umbrellas that ensure a fairy tale charm to your events.
Here are some models that you will find interesting.
47 Inch Arc Clear Bubble Umbrellas with Hook Handle feature Clear vinyl design with 190T nylon trim in various accent colors like Pink, Red or Yellow Trim colors. The classic plastic colored hook handle is the main attraction of these umbrellas.  Colored plastic tips and ferrule caps ensure more safety for the users while the Metal shaft with 8 panels enhances its stability.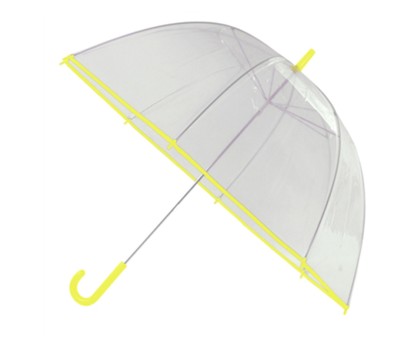 Clear Bubble Umbrellas with Hook Handle: These  47 inch arc clear bubble umbrellas  have a stylish hook handle  and a black trim along its canopy to complete its classic design. These bubble umbrellas are perfect for promoting all types of events and product promotions because your recipients will simply love to carry these stylish umbrellas that will let them enjoy the feel of the rain as they see the rain drops fall on them without having to  get wet!
52 Inch Arc Custom Printed Auto Open Bubble Stick with Fabric Border Umbrellas : Ornate and exceptional, these umbrellas are designed to stand out in style. The clear canopy with fabric border and high gloss plastic crook handle will round off the profile of these imposing umbrellas that turn heads easily!
Whether you are planning to use bubble umbrellas for personal or promotional purposes, these will never fail to impress your audience. Shop right away!