A Complete Guide On Custom Umbrellas
Umbrellas are promotional items for good reason! Available in a wide range of models, logo umbrellas offer incredible utility while offering ample flexibility in cost. Everyone has a regular need for custom umbrellas  which is why people hold onto them. The massive imprint area on the canopy will  keep your brand message in plain sight of both current and potential customers.
Businesses will thus find purchasing personalized umbrellas an incredible investment. Umbrellas have the highest retention of over 14 months among promotional items. Thus umbrellas will generate unlimited brand impressions; which in turn will ensure one of the best returns on investment (ROI) in the promotional industry.
Popular
Further, umbrellas are popular among all age groups and demographics. Apart from staying safe against elements and bad weather , umbrellas double up as fashionable accessories. Full color fashion umbrellas or wooden hook handle umbrellas are some of the many fashionable umbrellas that everyone will love to flaunt!
Handouts with a high perceived value
When you are looking for superior quality handouts for your high value clients and customers; umbrellas will fit your bills. Ideal for special events like milestone celebrations and business events, umbrellas will make new leads and start marketing your company in new locations and among new audiences. As you can see, advertising your business with promo products like umbrellas  is your best bet for making an impact on clientele!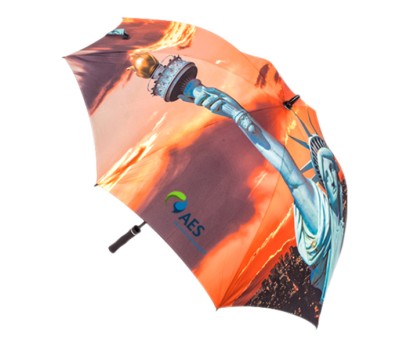 Eco-Friendly
Long lasting and recyclable, umbrellas do not end up in land fills quickly. So, if you are looking for an ecofriendly handout that will highlight your sustainable promotions; custom umbrellas will be a great option.
Businesses attending more outdoor events can help attract more customers; and help them interact with your brand in a unique way. Whether it is game days, outdoor trade shows or fairs, outdoor events; umbrellas offer ample scope for branding in a fun and jovial manner. So, it is  important to have the right swag like printed umbrellas  to leave  a lasting impression during such events.
Models like patio umbrellas and golf umbrellas  go a long way in expanding your usable outdoor area to create additional space for outdoor events.  It will even enable people to spread out easily while still accommodating larger crowds.
Durability
In addition, umbrellas are designed to last long and withstand wind and bad weather with ease. Fiber glass, antiwind golf umbrellas are a great choice for game days and golf leagues. Your logo and message on the canopy will also stand out impressively to draw easy eyeballs.
Cost-effective solution
Contrary to the common notion , umbrellas are not costly. Available in various price points, marketers can choose models from various price rates. In addition, ordering in bulk will help marketers to get maximum discounts and greater value for their promotional dollars.
Easy  to setup and maintain
Umbrellas are designed for easy setup and maintenance, which makes it a practical option for expanding usable outdoor space for marketers. easy to carry across various venues, custom umbrellas make portable billboards that are hard to overlook.
Aesthetically pleasing
Commercial umbrellas can a drive up  the aesthetic appeal of your outdoor space to create an inviting area for outdoor activities and events.
So, how do you plan to use custom umbrellas in your marketing plan? Share your ideas