Choosing The Right Promotional Umbrella Made Easy For You
Umbrellas are versatile, popular and stay on trend all round the year.  These traits of umbrellas will give businesses a long rope in employing these popular handouts in any event with ease. However, if you consider the life style, age and gender of your target audience you can come up  with the best possible models.
For instance, if you have a golf loving clientele, choose golf umbrellas or antiwind umbrellas while female audience may like these handy mini umbrellas or telescopic umbrellas that will easily fit into their bags.  Whoever your client is, you will find a perfect model in our well stocked collection.
Umbrellas are available in a wide range of interesting colors and intriguing models that will offer something special for everyone.  You can easily choose an appropriate model that will suit your marketing campaign and the needs of your recipient.
The basic objective of promotional marketing is to get your message on top of the mind of your customers.  For this, you need functional custom giveaways like umbrellas that get used every day. Your brand and message imprinted on the logo items will remain in plain view of your audience for a long time.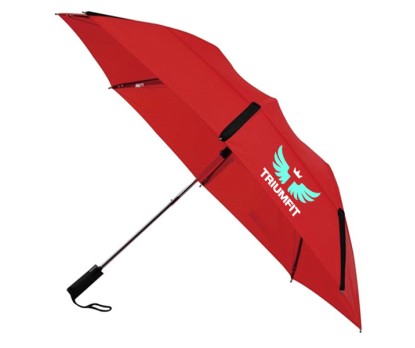 Create a distinctive brand identity
Custom umbrellas can be used to highlight your brand identity and colors as well. Make the best use of the imprint space of umbrellas to highlight your brand, message and values of your organization.
Brand visibility
You need to get your brand visible to potential customers. Not many custom gifts can match the visibility as logo umbrellas thanks to its massive canopy and the limitless models on offer . In a highly competitive niche, making your brand stand out is what makes or breaks your campaign. High visibility giveaways like umbrellas will make a great choice to consider
Great return on investment
Umbrellas have a high ROI thanks to its high practical use and long retention.  Umbrellas are retained by recipients for over 14 months or more. During this impressive shelf life span, logo umbrella create countless impressions.
Now for some great occasions where you can handout custom umbrellas and  earn appreciation.
Product launches and rebranding events set a great stage for you to employ custom umbrellas.
A special deal coming up? Can there be a better way to spread the word than custom umbrellas afterall?
Networking events are perfect occasions where you can handout custom umbrellas. Your brand and message imprinted on these high utility gifts will be put on display almost instantly during outdoor events and programs.
Now that we have got you covered on all the aspects of choosing umbrellas, you can make a smart choice for your upcoming promotions.