Custom Patio Umbrellas – Eye Catching Billboards That Are Never Missed
Patio umbrellas also known as market umbrellas where originally designed for market vendors to stay safe from sun and rain. However, today, these sleek and colorful custom umbrellas make a great way for businesses to get their audience engaged with their message. Whether you use it on the garden, patio or by the sea, patio logo umbrellas make  eye-catching display boards for your message that are never missed!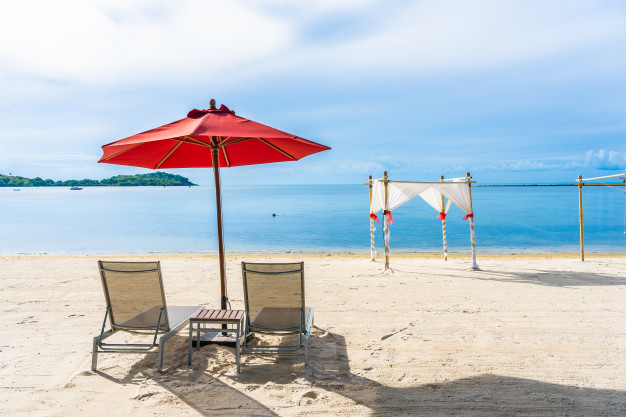 Patio umbrellas often have valances that will ensure extra shade and a bit of decorative touch to the umbrellas. Ideal even for outdoor seating areas in restaurants, these massive umbrellas make persistent impressions at one time investment. Designed to be inserted into a base, or simply planted into the sand, these umbrellas are easy to set up, dismantle and transport.
The large canopy of the umbrella will ensure a lot of printing space for your logo or message. One of the most visible models in umbrellas, patio umbrellas make durable and long-standing advertisement for your business.
Versatile
Be it the garden, park, beach or backyard , these outdoor umbrellas will make a perfect spot for your recipients to indulge in their favorite outdoor activities. Your logo and message imprinted on these umbrellas will get a lot of attention of not just the users but anyone who happens to see it.
Practical
Custom umbrellas help your audience to escape from the vagaries of weather.  Being repositionable and temporary, these can be set up and taken off as and when needed. Patio umbrellas enjoy a great degree of portability, which means your message will get a wider audience that you can even imagine.  Ideal for a wide variety of business events like product launch or outdoor promotions, patio umbrellas are also a hot choice for kids parties, barbecue parties and more.
Enhance The Ambiance
Patio umbrellas are sleek and stylish accessories that will enhance the complete look of your café or patio. Apart from being a cozy corner for your audience to enjoy their beverages, it will add a  pop of colors to your setting that will draw easy eye balls. Choose from a wide range of vivid colors and models to complement your promotional theme.
Flexible
Patio umbrellas are available in a wide range of models including those with tilting poles and valances that can be utilized to ensure maximum protection from sun and make the outdoor experiences enjoyable for the audience.
What do you think will make patio umbrellas a great choice for your promotions? Share your thoughts with us on our facebook page.