Custom Golf Umbrellas- Giveaways That Everyone Will Love
Golf has become popular as a style and luxury game and quite rightly luxury accessories like custom golf umbrellas have become popular handouts for business promotions today. No matter whether you are looking for a custom gift for corporate golf holidays, golf themed events and promotions, custom golf umbrellas will make a perfect choice.
Golf umbrellas stand out for its brilliant color choices and massive canopy that will set a perfect backdrop for your logo, message and stunning images. Your recipients would indeed be pleasantly surprised at how detailed and precise the picture will appear!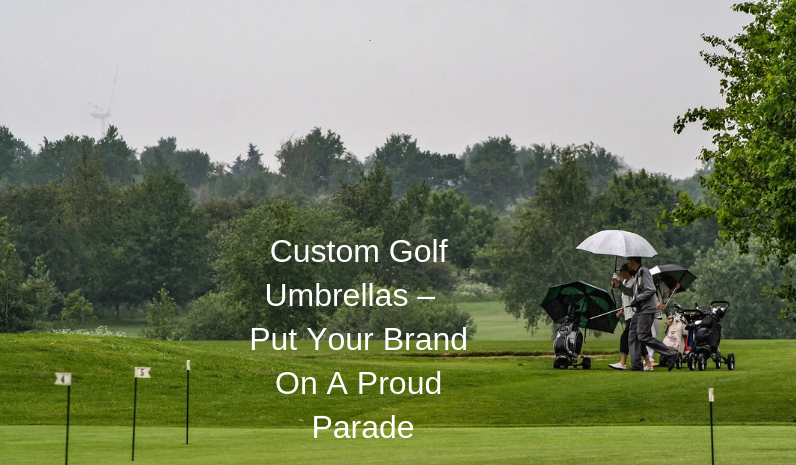 Features to look for!
Golf is an outdoor game and these massive umbrellas serve as a protective accessory that will keep the players shielded from sun and rain as golf umbrellas. Choose umbrellas that are around 60 inch in size to ensure proper coverage of the players and their equipment. Golf umbrellas should ideally have a straight handle that fit easily between the clubs in the golf bag.
Umbrella made from fiberglass material is a good choice as it is lighter and more wind resistant. Make sure that the model you choose has ergonomic handles that allow the players to retain the natural position of their hands while holding it. Umbrellas need not be exorbitantly priced as most people think.
Available in a wide range of price points, umbrellas when bought in bulk can be money savers. Choose premium quality umbrellas that will stand the test of time because the custom giveaways that you choose make a reflection of your brand identity.
Now that you have a fair view of the features and benefits of golf umbrellas, it is time to explore some of the popular models that will enhance your outdoor brand presence
Full color golf umbrellas
Why settle for solid colored or alternate panel color models that you have been seeing for a long time when you have these full color umbrellas that are designed to make heads turn. Anything imprinted on these eye catching umbrellas will get a lot of attention.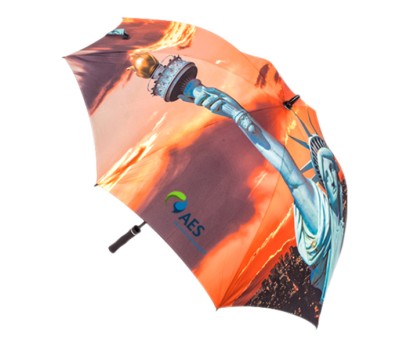 Antiwind umbrellas
The best choice for the greens, these sturdy umbrellas with vented canopy will withstand the high winds without getting blown inside out. Make your clients and customers feel reassured with a proven umbrella that can withstand the winds with ease without leaving them high and dry in bad weather. Choose from a wide range of models and colors that will complement your branding theme.
Square golf umbrellas
If you are looking for something different than the normal round canopy umbrellas, square golf umbrellas will make a great choice. Choose from various patterns and colors that will impress your audience.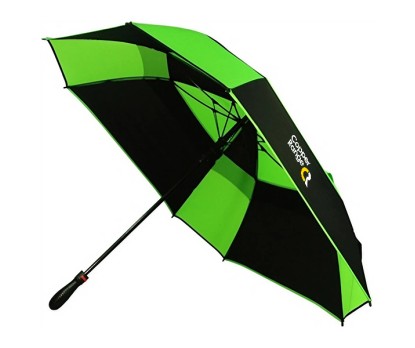 For more choices, browse our exclusive section of golf umbrellas to choose a model that suits your needs.