Custom Patriotic Themed Umbrellas Make Great Independence Day Promotional Gifts
Independence Day is only a few days away and marketers who wish to employ a patriotic themed promotional event will find these custom umbrellas in star and stripes pattern a perfect choice. Be it as store promotional gifts, fund raising items or tradeshow handouts, these custom umbrellas will enjoy a great patronage thanks to its high utility and beauty. Umbrellas are something everyone will need in their daily lives. Made to last long, these custom items will put your brand and message on display for a long time even after the July4th festivities get over!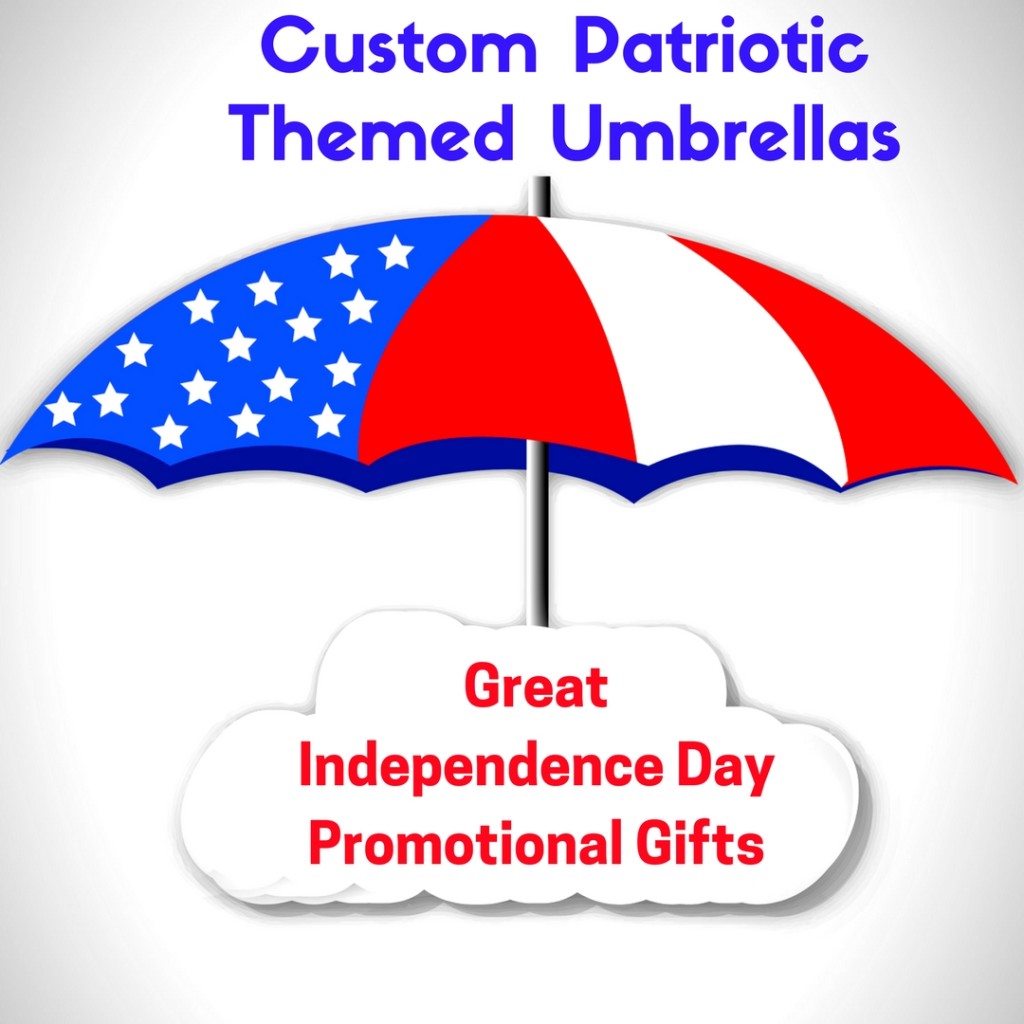 To help you get started, we have listed a few of our top selling patriotic themed promotional umbrellas.
42 Inch Arc Custom Logo Folding USA Umbrellas: These attractive polyester umbrellas that bear a star and stripe design will make a great way to celebrate the spirit of Independence and to sneak in your brand into your audience. Customize these auto open umbrellas with your brand and message to make it a great business gift for your employees and customers.
Red, White & Blue 42 inchArc Printed Umbrellas: The best way to celebrate Independence Day will be to flaunt the customary flag colors of red, white and blue. These patriotic custom red, white & blue 42" arc printed umbrellas make a very favorable choice as a sales handout during all days of national interest. Just imagine the attention your recipients will grab as they walk with these impressive flag colored umbrellas along the streets that will all be decked in tricolor!
42 inch Auto-Open Patriot Folding Umbrella: July 4th festivities and events set off countless fashion trends and patriotic themed items that people will love to wear. These patriotic themed folding umbrellas will drive up the festive milieu around and your recipients will surely love to put the national flag colors on a proud display over their heads on this special day! Your brand on these trendy umbrellas will get a lot of attention for sure. The best part is that these umbrellas get used up for a very long time even after Independence Day celebrations.
Red, White & Navy 58 inchArc Vented Economy Umbrellas: When the patriotic fervor and emotions run high, the best way to show your national pride would be to wear these elegant patriotic themed umbrellas. It will make a great gift choice during promotional events or social events.
Navy Blue 43 inchWind Logo Imprinted Umbrellas This budget friendly umbrella will make it possible to employ it for marketers in all niches. It will make a perfect party favor during family reunions or retirement functions as well. The steel windproof frame, 43" arc nylon fabric and automatic open function will make it a reliable and highly functional umbrella for regular use. By putting your brand on these your message too will get a fair share of attention.
If you are yet to finalize your July 4th custom gift list, hurry, you still have just enough time to catch up! Get our 24 hour service to make sure that you get your custom umbrellas on time.