Custom Umbrellas – Handouts That No Outdoorsy Clients Will Resist
Spring season takes credit to a crammed outdoor event list. It is a great time for marketers to span out to the outdoorsy clients. Get your brand and message imprinted on the umbrella and hand it out during golf tournaments, cycling, marathons, concerts and fairs to grab the undivided attention of people around. Your message imprinted on these logo items will enjoy a high level of portability, which means your message will be seen many more people other than just the recipient!
Imprinted umbrellas offer maximum exposure for your brand that you can get for your marketing dollars. Every time your recipients use these umbrellas during daily errands, your brand will get a wide display. Planning to sponsor your local sports team? Custom umbrellas imprinted with your brand and message will make a great choice.  It is a budget friendly way to get the whole world talk about your brand and to take not of your message.
An attractively customized umbrella will make an interesting way to get engaged with your audience. After all, can anyone overlook a brightly colored umbrella imprinted with your brand and message? It makes a smart move to grab the attention of your prospects during street corner meetings, carnivals and tradeshows. Offered in a wide range of colors and patterns, imprinted umbrellas will never stop working for your brand. The best part – these are not just weather wear items but make style statements for most people, which means your message will get displayed during all times of the year. The massive canopy of umbrellas will make a great canvas for you to highlight your brand and message.
Be it during game days, golf events or corporate holidays, umbrellas will keep the users covered from the sun while exposing your brand. Your recipients will find the umbrellas really useful on a long day outside. From handy models to massive golf umbrellas and unusual combo models and many more, umbrellas unfurl a plethora of choices that are hard to resist.
Fashion forward models
Tube Umbrella with Flashlight brings together the dual convenience of a flashlight and an umbrella. More the utility, more will be your brand exposure and that is what makes combo gifts like these a hot choice. These are ideal for employees working in remote sites during bad weather because these will protect the users not just from rain but provides light as well.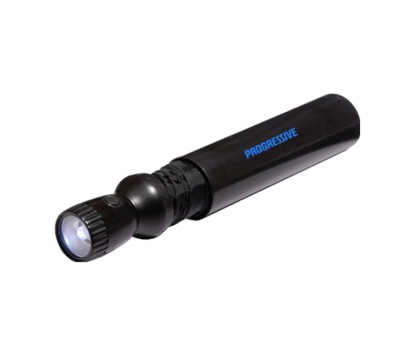 Umbrella with High Stand Cooler and Speakers: Looking for a handout that turns heads during corporate events and picnics? Look no further than these logo items that will bring together the convenience of a reliable umbrella along with a handy cooler and speakers. Your brand on these custom umbrellas will get a lot of attention for sure.
Are you planning to use custom umbrellas as your promotional items? Do share your thoughts with us at our facebook page to join an interesting conversation.