Why Umbrellas Make Popular Business Gifts
Custom umbrellas get you noticed easily even in crowded events, during pounding rain, storm or sleet. Not many promotional gifts enjoy the incredible staying power and visibility as custom umbrellas. Versatile and popular, umbrellas are well suited for promoting all types of events. The massive canopy will easily ensure that your name and message is seen. But there's more to it than that. Umbrellas make great talking topics in social circles; and your logo gifts will thus make consistent impressions without any concerted effort or investment.
Nobody likes to get drenched the rain—especially when you're on a business trip. This is what makes custom umbrellas sensible gifts for business travelers. Umbrellas are useful, easy to carry and keep people safe from weather when they are travelling. Choose models that fit in travelers bags. Light weight models like mini umbrellas or tote umbrellas make perfect choices. It will easily leave the audience pleased.
If you are looking for a corporate gift that is downright simple yet elegant, promotional umbrellas make perfect choices. In global world, where more people set out on business travel than ever before, custom umbrellas make a perfect choice. These corporate gifts endure over time and show off your message and brand for a long time. The massive canopies will make a perfect canvas for you to imprint your logo or message with ultimate precision and attention to details.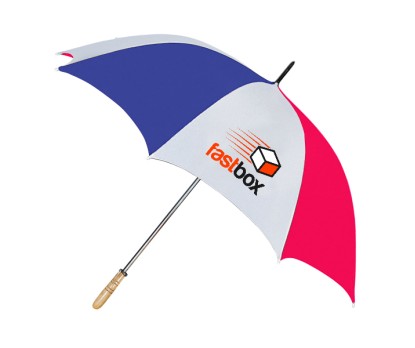 Make sure that the imprint and the message in visible, but not obnoxious; it will enable your corporate clients to carry these around without feeling embarrassed. You can even adopt a subtle mode of imprint on the inner canopy or even on the handle or the carrying case to keep your message right in front of your audience without appearing like a billboard.
Target audience matters
Are you looking for a business gift during a corporate holiday? Obviously you can think of golf umbrellas rather than smaller umbrellas to match the theme. Your guests will love to take home these souvenirs that will remind them of their golf holiday for a long time. The best part; every time they carry these massive brollies to the beach or picnics, your brand will reach a larger secondary audience.
Versatile
Umbrellas make great gifts for businesses because they are not only portable but are used by people of all classes and ages. So, if you are expecting a mixed audience of different ages and demographics, umbrellas will make a smart choice.  It won't look odd in any event and will never fail to impress anyone. Your message on a custom umbrella will get a lot of attention and appreciation. The best part, umbrellas are available in a range of price points too, which makes it easy to choose a model that matches your budget.
Planning to give umbrellas as business gifts? Do share tips with us at our facebook page to join an interesting discussion.