Custom Umbrellas Make A Great Addition To Any Marketing Campaign
Promotional umbrellas are perennially popular all round the year, which makes it a sensible gift idea for any marketing campaign. Offered in a range of colors and patterns, umbrellas have a casual charm and festive feel about it. The massive canopy of umbrellas can be turned into an eye catching billboard for your brand and message.
Umbrellas are not just for summer but make a great way to advertise your brand during the wet winter months as well. Everyone will love to have a handy umbrella in hand to stay safe from the weather elements. Every time your customers pop up one of your branded umbrellas the passersby see your company logo and message. Custom umbrellas can be utilized as employee gifts, referral gifts or store promotional items among others. Offered in a range of styles and colors, promotional umbrellas will literally make your brand and message stand out in the crowd.
For your audience on the move
Small and compact models like mini umbrellas or telescopic umbrellas are well suited for everyone. So, if you plan to fan out to the massive audience this season, put your dime on these weather wear items. Choose from a range of colors, match it up with your corporate color or choose the pantone color of the year to portray a fashion forward image of your brand. No matter what you choose to do, we have custom umbrellas in all possible designs and price points.
Bigger models for the sports audience
Massive models like golf umbrellas will make a better choice if you wish to grab easy attention and make heads turn not just in golf greens but beyond! These brilliantly colored umbrellas are well suited to promote all types of outdoor events because anything imprinted on these custom umbrellas will get a lot of attention and appreciation. Your recipients will find these massive golf umbrellas not just in the greens but also during picnics, camping holidays and more.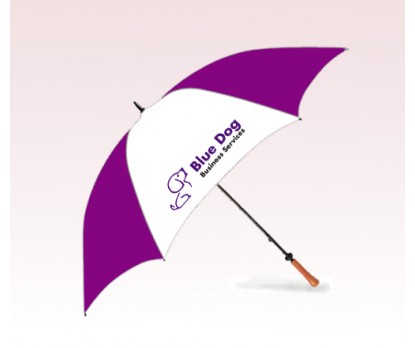 For the regular travelers
Antiwind umbrellas make a great choice for those who travel daily because these sturdy umbrellas will stand upright even in the strongest winds. Highly useful promotional items will get used on a regular basis, which means your message on these will reach a wider audience. Light weight tote umbrellas are perfect choices for your travelling customers.
If you are looking for a custom promotional item that will complement every marketing campaign, look no further than custom umbrellas. Explore our collection of promotional umbrellas and you will find how easy it is to choose a model that suits your promotional needs.