Custom Umbrellas- See What Is Trending During Holiday Season
Are you stuck with customary holiday gifts like chocolates, Christmas ornaments or soft toys? We have a delightful gift item that you might not have thought about. If you are scouting for a high utility gift with a festive flair, think about umbrellas – not many gift items can match their popularity. Custom umbrellas are something we all use on a daily basis; so can there be a better gift item to spread the holiday cheer than these logo items?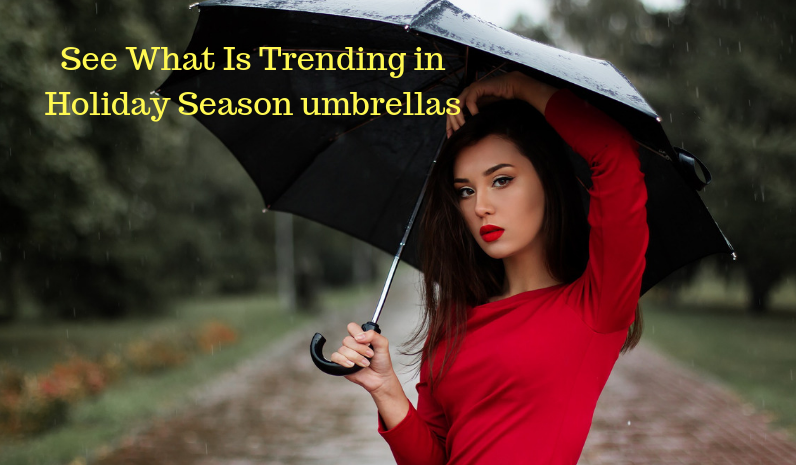 Though not many people consider umbrellas as possible gift choices, these make incredibly popular choices because firstly they are functional and secondly offered in a range of models and colors to match every themed event. Custom umbrellas will never look out of place in any event or promotional campaign due to its versatility and utility. Umbrellas will please every genre of audience irrespective of age or gender differences and every time they use these logo items, your brand and message will get a wide angle display.
We have added some of the most trending models to our collection just in time for the gift giving season. Take a closer look and we bet, you get one of the most popular custom gifts in town for the season.
Twofore Auto Open Umbrellas: These attractive two tone custom nylon umbrellas with wind resistant steel frame, matching sleeve with shoulder strap and rubberized handle will make a great handout during this season. Customize these beautiful umbrellas with your brand, artwork and message to make it a great holiday gift that everyone will cherish.
Silver Lining Umbrellas: Manufactured from 190T polyester material with silver coated lining, these umbrellas make a welcome addition to the weather wear collection of your customers. The silver lining will reduce the impact of the summer sun rays enhancing the comfort of the users. Your brand on these umbrellas will get a lot of attention for sure.
Color Top Folding Umbrellas Made using the polyester material, these top folding umbrellas are available in two-tone color options that will grab easy attention of anyone who sees it.
Splash of Color Golf Umbrellas Ideal to accommodate more than one individual, these umbrellas have black panel with a contrast color in one panel will create a visual spectacle in the golf greens, on road or beaches. EVA foam handle and fiberglass frame will enhance the functional excellence of these manual open umbrellas.
Black/Metallic Gold Auto Open Umbrellas: Celebrate the festive colors and glam up your events with these stunning dual colored umbrellas. These custom auto open and close umbrellas with fiberglass shaft are made not just to look good but last long as well.
Which of these custom umbrellas are your promotional items? Share your thoughts with us at our facebook page.