Custom Umbrellas Make A Great Way To Announce New Product Launches
Launching new products is an effective business strategy for business of every genre. It will create fresh interest in your brand and will tempt people to explore your stores more often. Launching a new product requires a lot of publicity to add a buzz and to get the message out far and wide.
Business organizations are willing to go to any extent to make their product launch a mega affair. If you are on a budget yet wish to grab the headlines on the eve of your new product launch, then promotional umbrellas will make a great choice. When conventional advertisements like brochures or billboards lose their charm and fizz in driving home your marketing message, you need something special like imprinted umbrellas in your marketing mix.
Why imprinted umbrellas?
Practical items like umbrellas are hard to resist for most people. After all everyone needs umbrellas at home, in car or on the move to stay safe from the weather woes. A unique and stylish umbrella often becomes a style booster too for your recipients during outdoor events. The massive canopy will make a spacious blank canvas for the marketers to position their brand or artwork and to earn the best strategic advantage. Be it an interesting tagline, a quirky mascot or a quiz, you can imprint anything that you want on custom umbrellas to grab the attention of your audience and to engage them with your brand.
Printed umbrellas with the name and logo of the advertisers get the undivided attention of anyone who sees it. Umbrellas keep your brand name in the minds of clients and get your message across to your clients. Short and crisp messages on custom umbrellas make a clever way for marketers to make their message well heard in their interest group. However, to ensure that the imprinted umbrellas get regular use among your recipients make sure to keep the customization understated and subtle.
Umbrellas are offered in a range of different models and colors, which makes it easy for any business owner to pick up a model that matches their needs. Be it golf umbrellas, standard umbrellas or telescopic umbrellas, there is something special for everyone here. Here are some trending models that will give your brand a wide angle display at easy rates.
Super-Mini Telescopic Folding Umbrellas Presented in a bevy of two-tone and solid color choices, these promotional folding umbrellas also feature matching colored sleeves for storing them neatly when not in use.
Kids Safety Umbrellas with Hook Handle: Impress family audiences with ease by handing out these cute, multi colored kids umbrellas. Your brand and message on these will get a lot of attention for sure.
Double Cover Umbrellas These eye catching umbrellas with a fully sublimated interior will ensure a fantastic brand experience for the users. Every time they look up, they will be engaged with your brand and message imprinted on the inner surface.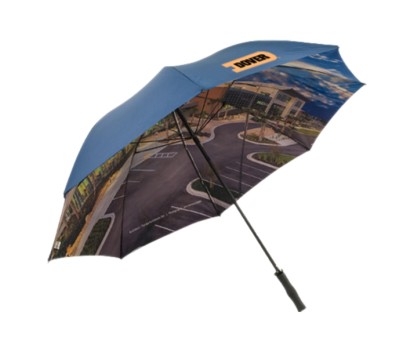 Need more? Browse our exclusive collection of custom umbrellas and choose an item that matches your needs