The Most Popular Promotional Umbrellas To Consider This Season
Umbrellas have come a long way since its origin as plain and boring black canopies that were designed just to brave the rain. Today, umbrellas are available in a range of interesting designs and models that incorporate the latest wind-proofing technology resulting in more reliable umbrellas that can withstand rainstorms without incident.
Wind proof models
Wind-venting design enhances the strength and durability of umbrellas even during snow or heavy wind. Venting will keep the umbrellas steady by allowing the wind to actually pass through the canopy, thereby eliminating the possibility of inversion. A sturdy umbrella that will never fail even during the most challenging weather will leave a positive impression in the minds of your audience.
Here are some models to consider.
68 inch Vented Custom Personalized Umbrellas the all fiberglass frame with metal shaft and blonde wood grip handle will make it a perfect model to consider. Sturdy enough to withstand gusts up to 55 MPH, these umbrellas have a light weight design and lightning resistant features as well, which makes them ideal for golf greens.
Vented Golf Custom Printed Umbrellas: Available in 3 colors, these wind proof golf umbrellas will put your brand and message on a wide angle display in the greens and even beyond. Choose a model that match your brand theme and impress your audience. The large vented nylon canopy will make a great display board for your brand while the matching color case offer additional imprint space. The sturdy fiberglass design will enhance the stability of these umbrellas that enjoy a high retention.
Dual imprint space
Double cover umbrellas that can be imprinted with your brand not just on the outer canopy but underside as well to ensure limitless branding options. The double cover design will ensure a full scale engagement of your brand with your audience. These are well suited to promote all types of brands and events and will get a higher retention among the audience. You can imprint maps, full color images or interesting taglines inside the umbrellas to add a fun twist to these daily use items.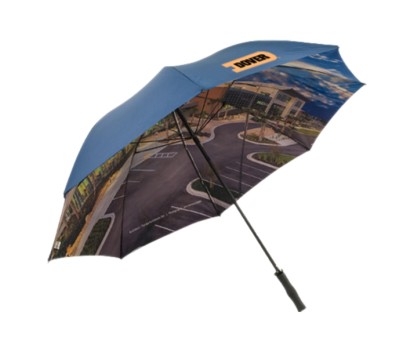 Transparent umbrellas
Clear umbrellas are not only stylish, but these umbrellas will allow the users to see the surroundings and the people around as they walk around. Models like 46 inch Arc Custom Printed Clear Umbrella make great wedding favors and promotional items all at once. These can be customized with brand and message to make them portable billboards for your brand.
Limitless choices in Handles
Umbrella handles have undergone revolutionary change in recent times. From  umbrella with handles in plastic and  recycled materials to  umbrellas with wooden handles– there are a lot of interesting models to choose from. You can even customize these handles with your brand and message to make them portable billboards for your brand.
Which of these custom umbrellas do you think will fit your promotional theme? Share your thoughts with us at the comments section below.