Custom Umbrellas – One of the oldest Marketing Tools
Custom umbrellas are proven handouts as promotional tools  and an effective advertising medium. More popular than ever, printed umbrellas make a safe investment for marketers of every genre.
Imprint your logo and message on custom umbrellas to make a sustainable and affordable advertising strategy at one time investment.
Limitless choices
Custom umbrellas are available in a wide range of models and price rates to match your diverse promotional theme.  From standard umbrellas to travel size telescopic umbrellas and the big and bold golf umbrellas, you have a lot of options to consider.
Fun to customize
The massive canopy of umbrellas makes a high visibility billboard for your brand. Add your logo, artwork and message to brand umbrellas. Choose unique text and message to make it easily noticeable. Cheap to imprint, you can make the best use of the massive imprint space of umbrellas to fit any promotional  text. Whether you wish to place your message imprinted on one panel, alternate panels or the whole canopy, custom umbrellas will make high visibility billboards that are hard to miss!
Popular all-round the year
 Umbrellas make a great choice for outdoor marketing all-round the year including rain and shine. Available in a wide range of price rates, you can easily choose custom umbrellas that match your theme. Plus, when buying them in bulk you almost always get a good bargain.
Here are some popular models that can be considered
Custom Patio Umbrellas
Very popular in hotels, resorts, homes and outdoor picnic spots , patio umbrellas are available in unique designs and varied sizes. Choose from various models like tilting models to advertise your business and make a statement about your brand. Choose from a wide range of sizes that will suit a specific size of a patio.
Custom Golf Umbrellas
Golf umbrellas are larger in size compared to standard umbrellas. Exuding an air of elegance, class, and style, these umbrellas will match the class of any client and can be used to promote golf themed events and life style events. Available in various colors including full color canopy, custom golf umbrellas will make a great investment in promotional giveaways. Lighting resistant and antiwind, custom golf umbrellas  last long and look great.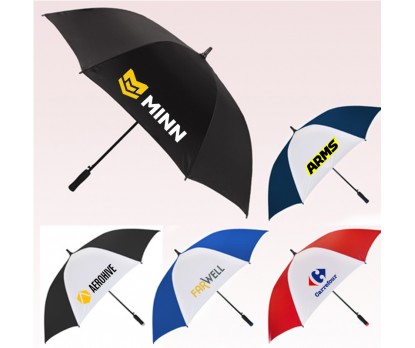 Custom Beach Umbrellas
Promotional beach umbrellas are quite common today as beach holidays are picking up the pace after the pandemic. There can't be a better way to guarantee a good time for your clients than handing out these beautiful custom beach umbrellas with logos. Ideal for every niche of businesses especially hotel industry, custom beach umbrellas make long term brand impressions without repeat effort or investment. Choose from a palette of colors to complement your promotional theme.
How do you plan to use custom umbrellas as your swag? Share your ideas.