Custom Umbrellas – Promotional Gifts with An Incredible Sales Angle
Let's be frank about it! Not many things in life sell themselves except may be ice cream, chocolates or holiday cards! Marketers often adopt a well planned sales strategy to sell their products and promote brand. Often free gifts make a great ingredient in the marketing mix to tempt people towards brands and to grab their easy attention. However, with countless promotional gifts being added to the list, it becomes a complex task for marketers to choose gifts that will retain its charm and utility for a fairly long time to ensure the best value for their promotional dime.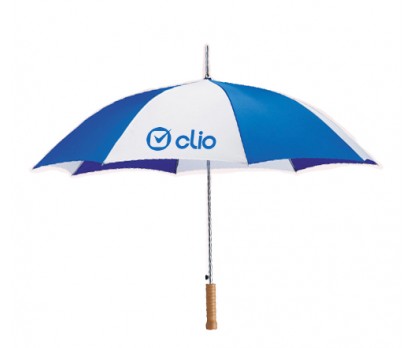 Custom umbrellas make a great handout to consider for marketers that wish to build a buzz and generate quick interest in their brand. These make perfect handouts during grand openings, milestone celebrations, corporate events and other occasions. If you are wondering what makes custom umbrellas popular handouts, here are some unbeatable advantages that not many custom gifts can boast.
Functional
Custom umbrellas are great weather wear items that everyone needs. So, by handing out custom umbrellas you are rest assured that your brand will be seen quite often. Offered in a range of models and colors, umbrellas will double up even as fashion accessories and props. Highly practical gifts enjoy a high retention among the audience unlike novelty item that may get discarded fairly quickly. The high perceived value of umbrellas will make it a perfect gift.
Versatile
If you are have a mixed audience comprising of both men and women in various age groups, there can't be a better choice than umbrellas. Marketers often find it a perplexing task to choose gifts that will match the specific tastes and needs of their target audience. However, by choosing versatile and high utility gifts like umbrellas, they can confidently hand out these logo items to everyone and in every occasion without being out of place.
Countless choices
Umbrellas are offered in dime a dozen models that range from small mini umbrellas that will fit into a bag or purse to the massive golf umbrellas and market umbrellas. The limitless color choices and design trends will make it easy for you to choose a model that everyone will surely love. A smartly customized umbrella will grab easy attention and makes a talking topic in the social circles of your recipients.
Customization options
The massive canopy of umbrellas is its trump card from a marketing angle. You can place your brand, artwork, taglines and more on the generous imprint area. Every time your customers open their branded umbrellas your brand will stand out above the heads of everyone thereby grabbing the undivided attention of people around.
Do you have more points in mind? Feel free to discuss about the benefits of custom umbrellas as promotional items in our comments section.