Custom Umbrellas – Stand Out Giveaways That Are Never Missed
Most conventional modes of advertisement do not take your message right into the target audience. Your message will be seen only by those selected few prospects who happen to see your billboard. This is what makes custom umbrellas ideal for target promotions.
As you know, not all umbrellas are created equal as these are available in a wide range of models for different purposes. Whether it is the pint sized mini umbrellas, the quirky inverted umbrellas or the dramatic full color golf umbrellas, these fully customizable umbrellas are the best tools in the promotional market .
Market umbrellas
Pop up some brilliantly colored beach umbrellas or market umbrellas to attract potential clients to your business without you having to holler over a mike. Make it stand out by imprinting your artwork or logo on the wide canopy of these umbrellas and allure the viewers.
Market umbrellas are stylish and easy to handle. The poles are strong yet flexible, which will ensure the perfect angle for your users while your brand will get a 360 degree display. Being light weight and easy to fix and take off, market umbrellas can also be conveniently carried to all places.
Light weight, easy to clean and low on maintenance, outdoor umbrellas can be reused across promotional venues year after year. Just imagine the impressions your brand on these umbrellas will make at one time investment giving you unmatched ROI.
Advertisements can be expensive. The catch is that even after spending a fortune, there is no guarantee that the advertisement may attract your customers. This is what makes custom umbrellas a safe bet. Eye catching yet subtle  and efficient enough at the same time, these portable promotional items can be used for a long time to reinforce your brand image and goodwill.
Does it sound too good to be true? Well, not anymore! Check out an impressive array o customizable umbrellas in all possible colors, models and price rates. Perfect for promoting your local business, these vibrantly colored umbrellas are hard to moss, thanks to the catchy design. Available in various custom print options, you can fully customize your own umbrellas with the choice of your design, text and logo.
Golf Umbrellas
Designed to last long and withstand hostile weather and high wind conditions, golf umbrellas are a favorite choice of advertisers these days. Not just for golf events and promotions but to get across any promotional message and engage the audience. Portable, light weight and durable, these trendy umbrellas are really efficient at attracting customers and make a perfect choice for on-spot local advertising, giving you an edge over the competition!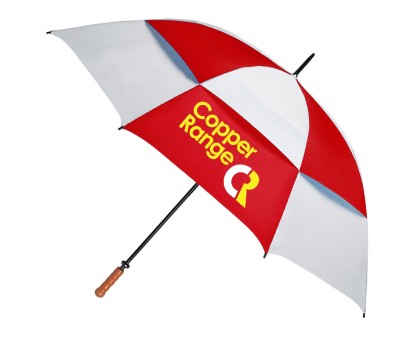 How do you plan to use logo umbrellas in your outdoor promotions? we would love to have your ideas on our instagram page to have an interesting conversation.