Take Your Outdoor Branding To A Higher Level With Custom Umbrellas
Using imprinted umbrellas for outdoor branding is nothing new and going by the trend, it is likely to be around for a long time too. The sheer utility and the diverse styles available make custom umbrellas a wonderful promotional item. From being plain and bland, umbrellas have evolved to be fashion accessories that everyone would love to flaunt.
 Here are some interesting models in custom umbrellas.
Market umbrellas
 Brand your space better, stand out in the competition apart from shielding your customers from the sun  the rain. Make the most out of these massive brollies and get your message across in a bold way. Businesses of all types can use these umbrellas with ease. For instance, Square Umbrellas will make perfect   choice  for hotels, resorts, etc. thanks to its  minimalist and classic  design.  Offered in a wide range of solid colors, these umbrellas will grab easy attention from even a distance.
Market umbrellas are perfect advertisement options for outdoor stalls, cafe, or a restaurant  for fair weather outdoor promotions. Reusable and designed to look good and last long, these umbrellas will ensure the best value for your promotional dollars. Easy to install and dismantle, market umbrellas will make portable billboards for any outdoor campaign , anytime. Make it one of its type w by getting it imprinted with your message, artwork and design to make it interesting and engaging.
Beach umbrellas
Not just for beach events, beach umbrellas are simply great for any outdoor events or trade shows. Your target visitors do not have to search for your booth as these brilliant umbrellas will help them find it easily even in crowded events. Choose from a wide range of different types of tents in multiple sizes.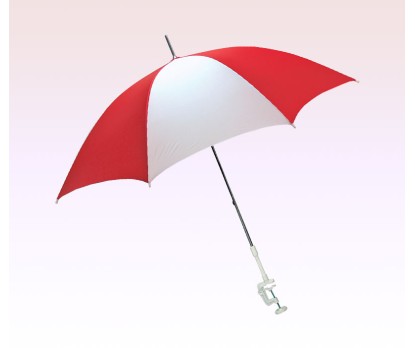 Innovative umbrellas
Check out some of these innovative umbrella models that are designed to cater to the needs of the hour.
Inverted umbrellas that are designed to hold rainwater within its folds without spilling it over to the car and room floors is a brilliant model to consider as corporate gifts.
Hands free umbrellas are the best choice for the busy, DIY clan of modern day users. The loop handle can be held in position with the wrist while freeing up the  hands and finger for holding bag or using phone! You will love the brilliant color choices that these umbrellas offer!
Flashlight umbrellas: Let your audience be well equipped to tackle bad light and bad weather all at once with these combo umbrellas that offer double utility and double brand exposure at the cost of one.
Need more? Browse our collection of custom umbrellas to choose models that match your promo theme.