Custom Wedding Umbrellas- Add A Retro Twist To Your Wedding Day
Wedding parasols have been invariable attractions of wedding days since time immemorial in various civilizations. Though times have changed, personalized umbrellas still make a great wedding day accessory. Be it as gifts for the wedding day guests during outdoor weddings or as part of wedding day décor, wedding umbrellas can add a fairy tale charm to any wedding day!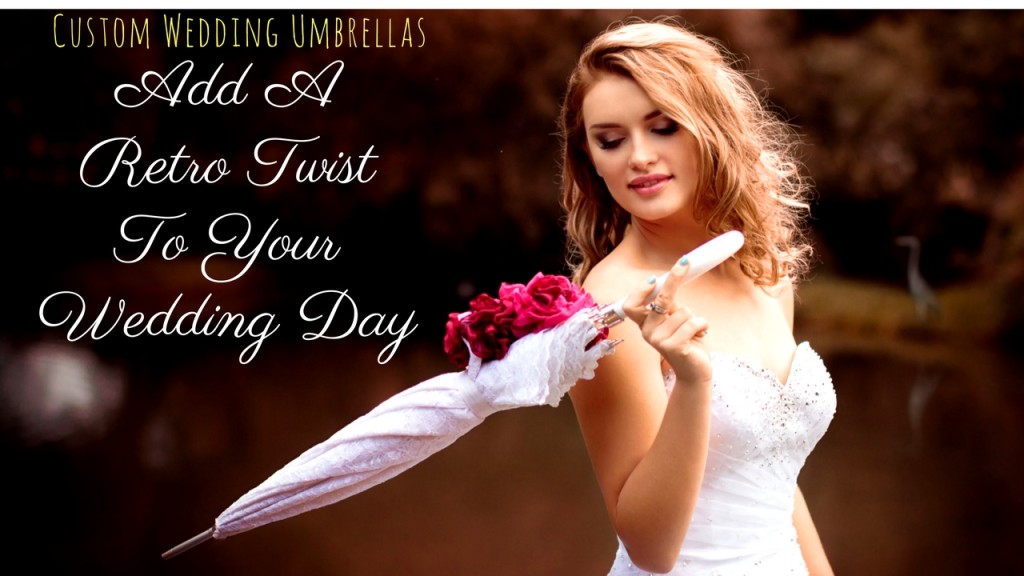 Choose wedding umbrellas from a palette of colors to match the theme of the wedding, personalize these with the couple's initials or message to make it a great wedding day hand out. You can employ these umbrellas to ferry your wedding guests from the limousines to the church if it is drizzling or can even use as photo props during candid photography. The bride can choose a transparent umbrella that will let the wedding guests see her even while she stay shielded from the bad weather elements. There are ornate parasols and lace umbrellas like these Bridal Shower Wedding Red Floral Ruffles that will instantly turn heads of your guests. If you have set up outdoor dining tables, larger umbrella models like 60" Wedding Party Umbrellas can be used to add a pop of color to the settings and to keep the sun off the guests.
Umbrellas as promotional items
Interestingly custom wedding umbrellas not just make memorable party favors and photo props but will make great promotional items for wedding planners, caterers and wedding photographers. Keep ready a few large, brilliantly colored umbrellas that are customized with your brand and message. Every time the guests are being escorted in the rain, your brand will get a wide display and they will remember your name and brand which will enjoy posterity through the countless wedding snapshots that will keep your brand image vivid.
The best part is that these umbrellas will come handy for the wedding guests who plan to hit the golf greens in the evening after the wedding. If it is too wet these umbrellas will shield the caddies and the players and will keep the name of your business high and bright.
Destination weddings are the latest fad these days. As an event planner if you are planning some interesting post wedding activities for the guests like the local league rugby matches, these promotional umbrellas will make a great choice. These sporting events will get a lot of coverage from local newspapers and just imagine the exposure your brand will get on these printed umbrellas in the background.
Do you have more ideas on using personalized umbrellas during weddings? Tell us your thoughts at the comments section and set the ball rolling of an interesting conversation.