Custom Patio Umbrellas Will Make Your Message Truly Impressive
Summer is at its glory and it is the best time for marketers to scout for outdoor patio umbrellas to provide shade and color to your outdoor tables. Custom patio umbrellas will make a great option to provide shade and protection to your outdoor table. Be it a small bistro table or a large swimming pool table, patio umbrellas will enhance the party milieu and will add dollops of color and vintage charm. Patio umbrellas are offered in a range of sizes, shapes and models. For high wind areas, suitable models to consider include fiberglass umbrellas with valences will be a great choice. Tilt umbrellas is another handy model to consider as these can be tilted according to changing wind and sun's directions to ensure maximum coverage.
Patio umbrellas will reduce UV risks and will put your brand on wide display. The warm months of the year are everyone's favorite time of the year to plan picnics, camping holidays, BBQ parties and road trips! Everyone enjoys these good times and these massive umbrellas will keep the users well shielded from the stinging sun's rays that move with the day. Patio umbrellas are offered in various models including Patio umbrellas with a crank, pulley lift system or manual push up.
Custom patio umbrellas are well suited to promote beach events, clubs, cafes, fashion brands and more. The impressive colors and the generous imprint area of the canopy will keep your message out in style.
Here are some of the top selling models that you will love for sure.
72 inch Reinforced Personalized Patio Umbrella: Grab the attention of all the beach lovers and holiday makers with these attractive patio umbrellas that come with matching sleeve with drawstring closure and shoulder strap. These are well suited to promote outdoor eateries by beach side, restaurants, cafeteria, and wedding planners, who specialize in outdoor weddings. Grab a few eyeballs from the crowd with these long lasting 400 denier polyester umbrellas that are designed to last long and look great.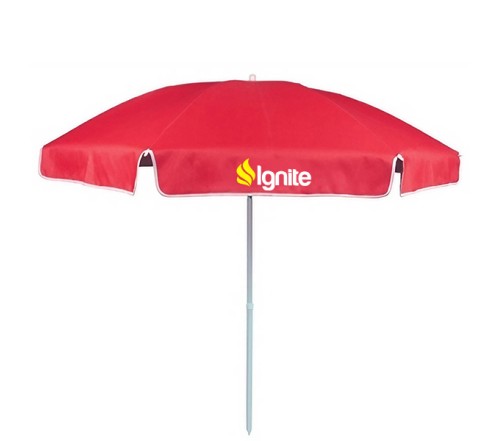 100 inch Large Ten Panel Custom Patio Umbrella With Fiberglass Frame: Put your brand on a big and bold display on these impressive patio umbrellas. Offered in a palette of colors, these serve as a high visibility eye level billboard that makes a great POP item too! Reusable and long lasting, these impressive patio umbrellas will make consistent brand impressions on a budget. Go for it!
7 Ft Custom Imprinted Wood Market Umbrellas with Valances: These high quality Wood Market Umbrella will put some shade over your customer's crowns and will make your brand more visible during tradeshows, outdoor business events and beach activities.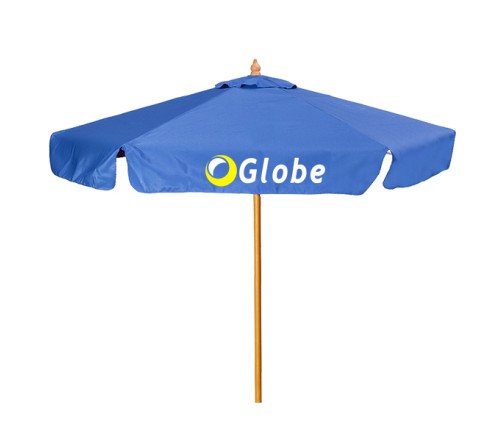 Besotted by our collection of patio umbrellas? Do not make up your mind till you see our complete line of promotional patio umbrellas. Shop right away!