Full Color Custom Umbrellas For Fantastic Fall Season Promotions
The summer has run its course and the fall has rolled in and marketers are bringing in seasonal items like umbrellas into their promotional mix to make sure that the chill in the air doesn't dampen their brand exposure. The fall weather that is expected to dominate from mid September till October will have its fair share of warm sunny days, loads of outdoor activities some fall storms, which makes umbrellas a sensible gift to consider.
Custom full color umbrellas will make a great promotional gift to promote brands and events during this time of the year. The massive canopy and the brilliant color choices will make these logo items the hot choice among marketers. Add a streak of bright colors and beauty to your promotions and grab easy attention of your audience. Every time they carry these pretty umbrellas as weather ware items, trendy accessories or prop, your brand and message will get a panoramic display. Custom umbrellas enjoy a warm welcome and long retention as everyone needs brollies in their daily lives.
Here are some of the popular imprinted umbrellas that can be considered.
48 inch Auto-Open Deluxe Curved Maple Handle Fashion Umbrella: Offered in 6 brilliant colors, these auto-open deluxe curved maple handle fashion umbrellas will easily get your brand spotted. The wood shaft with matching ferrule and tips will add up to its style. A brand imprint on these trendy umbrellas certainly gets noticed even from a distance. These logo items will make great items to promote golf greens, fashion brands and sports clubs among others.
46 inch Arc Custom Printed Umbrellas w/ Strap 5 Colors: This automatic open umbrella made of pongee material is offered with a matching sling strap of 5 colors, which makes it easier to wear it over a shoulder. Offered in four solid tone colors with grey accents , these logo items will make a great way to promote brands, events and causes. Your brand on this will make it more attractive. Go for it! These are well suited for fall promotions, fund raising events and festive sales announcements.
48 inch Auto-Open Wood shaft Fashion Umbrella: Impress your audience with the classic charm of the old fashioned wooden shaft umbrellas and put your brand on a proud parade. These double canopy umbrellas will make a great fashion accessory for your customers. The contrast black top canopy offers enough space for a prominent brand imprinting while the inner sky pattern canopy will make a lovely setting and a delight for the eyes.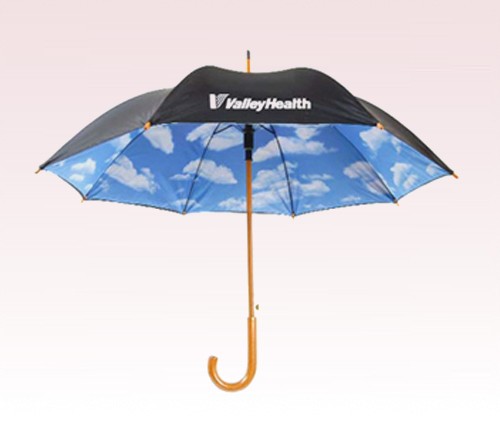 46 inch Auto Open Customized Umbrellas w/ 5 Colors: Offered in five attractive colors, these 46" auto open custom logo umbrellas will make a great value for money marketing tool. Imprint your brand and message on these eye catching umbrellas and leave a lasting impression in the minds of your audience.
48" Arc Stick Personalized Logo Umbrellas: Offered in 3 colors, these logo umbrellas flaunt a fashionable checkered pattern. Your recipients will love to use it as a trendy accessory even in fair weather conditions thereby offering your brand an incredible exposure.
Have you used custom umbrellas in your promotional before? Share your thoughts and experiences with us at the comments section.