Impress your Audience with The Most Trending Umbrellas
Umbrellas are incredibly popular, value added and above all , something that everyone will find useful. People need it all round the year to stay safe from UV rays and boost their outdoor dressing style.  So, no matter how you wish to incorporate umbrellas into your promotions, these will never look out of place.  
Now for some trending umbrellas that will help you enhance your brand exposure.
Auto open  Umbrellas
Automatic umbrellas are  one of the most popular umbrella designs thanks to the convenience of opening and closing the umbrella with  the push of a button.  Available in a wide range of models  and sizes, auto open umbrellas  will make a walking billboard for your brand for sure. Customize it to make it one of its type.
Patio Umbrellas
These heavily built, large umbrellas are ideal for outdoor use. Ideal for beach events, restaurant promotions and trade shows, these umbrellas will make a high visibility billboard for your brand while offering protection to people against harsh climatic conditions.  These long lasting umbrellas will indeed make consistent impressions for your brand at one time investment.
Beach umbrellas
A rage among the outdoorsy crowd, beach umbrellas provide shelter for multiple people at once. Available in a palette of vivid colors, these custom umbrellas will easily make heads turn during all types of events. As these brollies are used in places where people relax, like near swimming pools and beach, these will get easy eye balls. So, it is highly likely that your message on these will even turn out to be a talking topic among people.
Golf Umbrellas
Golf umbrellas will protect the players  from the sun and rain. Larger than standard umbrellas, these can shield the golfer and the playing equipment. The best part is that these trendy umbrellas are not just useful during golf sessions but  are useful even beyond the greens. So, your message printed on it will get a larger audience than you think.  Choose from various interesting models like square shaped umbrellas and  full color dye sublimated umbrellas among others to complement your branding theme.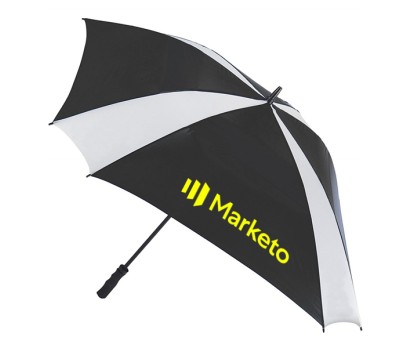 Windproof Umbrellas
These highly functional, reinforced umbrellas have a sturdy design and vented canopy; to withstand high winds and stay firm without getting blown over during storms . The large size and incredible color choices are the other features that make golf umbrellas a favorite choice of marketers.  
These are only some of the many popular designs in umbrellas that brands can choose for advertising. Choose a design that meets your requirements for the best impact.