Imprinted Umbrellas – Just Right for Promoting Small Businesses
Small businesses and budget marketers may find it an uphill task to stand out in the competition. Businesses around the world try to get over each other with advertisements. Hence finding the right promotional gift will make a great way to change the fortunes of their brand in the shortest possible way. While traditional advertisements like billboards or TV ads can be exorbitantly costly that make them out of each for most people, custom gifts like umbrellas make popular gifts that ensure consistent brand impressions at a fraction of the cost involved in traditional marketing.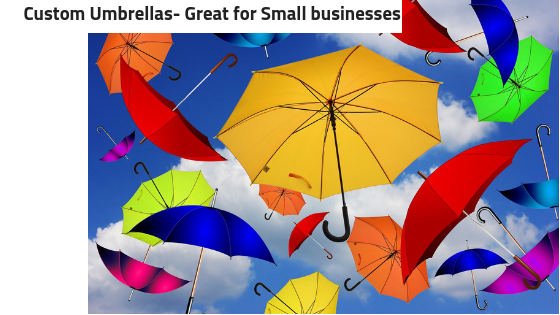 Promotional power of umbrellas
Umbrellas enjoy incredible popularity all around the world as an affordable promotional material that never fails. The massive canopy of the umbrellas imprinted with your message and brand will never fail to grab the attention of the audience. Offered in a range of models and colors, you can choose a promotional umbrella that suits your corporate color or theme. Umbrellas have become the perfect option for marketing your business for years at low cost.
Attention grabbing custom items
Custom Umbrellas make heads turn and add a festive feel even to a low key promotional event. Models like patio Umbrellas imprinted with your logo and message will make a great promotional item for bars and cafes. Golf umbrellas will grab attention of not just the golfers but everyone around and these will take your promotional message even beyond the greens.
Antiwind umbrellas will make a great handout to make your brand popular because your recipients will have a reliable umbrella that can withstand even the most challenging weather elements. Highly useful umbrellas will make great talking topics as well and every time they use these stylish umbrellas, someone else in the road will be inspired to take a closer look at your brand.
Patio umbrellas will make great options for restaurants and bars to make additional space during fall and early winter. The colorful umbrellas will complement the holiday promotional themes and will attract more customers.
Looking for something quirky? Check out these inverted umbrellas that folds upward to keep the wet surface inside and away from others. Its ability to quickly drain excess water also means that you have a smart solution for all those wet umbrellas left out to dry in the office reception or the living room of your home.
If you need a versatile gift item that will gel well with all your promotional themes, settle for custom umbrellas. Simple and highly functional, these logo items are something that everyone can use right away.
Have you used custom umbrellas in your promotions? Share your thoughts at our facebook page to join the conversation.