Know More About Golf Umbrellas As Promotional Swag
Golf umbrellas are not just for the greens but  make a stylish everyday item for  people. Colorful and massive, golf umbrellas  have left their name in the hall of fame  of fashionable accessories. Popular in the college campuses, offices and fashion high streets, golf umbrellas have indeed made lives of the outdoorsy people easier.
Functional and fashionable, golf umbrellas are important not  only for the players but also the audience. Bigger than standard umbrellas, golf umbrellas are  wind resistant,  lightning resistant and long lasting. Ideal for both rain and shine , golf umbrellas are available in various sizes that will protect  the golfer along with the  cart.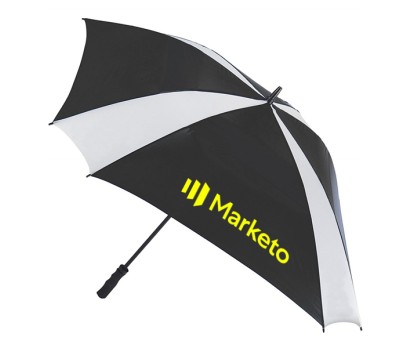 Easy to customize
The winning card of custom golf umbrellas is the massive imprint space. Marketers can choose to get their logo and message imprinted on one panel, multiple panels  or the whole umbrella to get all eyes on it . Sponsors who wish to create their brand visibility among the players will find golf umbrellas a fabulous choice.
Practical
An enjoyable spell of golf can be spoiled by an unexpected shower. Weather can be unpredictable; however, these golf umbrellas will help the sports personnel to be well equipped for such eventualities. A good quality golf umbrella will have substantial coverage to protect the users from elements, while the marketers get incredible brand visibility. Win-win.
Wind Resistance
The double canopy and vented design of  golf umbrellas will make it withstand the high speed winds in the greens. In addition, the fiberglass ribs and frames of these umbrellas will enhance its stability in the outdoor conditions. Most golf umbrellas are also lightning resistant and will ensure the safety of the players in the wide open spaces in the event of a thunder storm.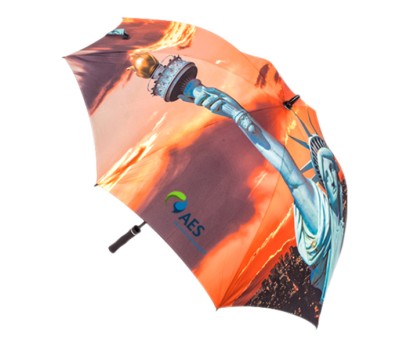 Durability
Golf umbrellas are  long-term investments that will continue to work for your brand for a long time  The high quality fabric used for the canopy and the sturdy shafts   of golf umbrellas make it last for a long time.
More value for your money
Though golf umbrellas may cost you a bit more than  other giveaways , it will still make a sensible promotional gift choice considering the incredible retention and durability enjoyed by golf umbrellas. In addition, ordering in bulk will help you get the maximum discounts, to ensure more value for your money.
Coverage
Golf umbrellas are enormous and visually striking. These are large enough to shelter a family of four or a group of friends. Available in various sizes, you can choose an appropriate model that will match the preferences of your customers. If you are reaching out to the golfing community, choose a model that will easily fit inside their  golf bag. If you are looking for a golf style umbrella that is portable, settle for a smaller size that is easy to pack and carry.
The choices are endless in today's world. Consider the priorities of your prospects while choosing a golf umbrella. Get set by choosing an appropriately sized golf umbrella and customizing it with your brand and message. Explore our complete line of custom golf umbrellas for inspiration.