Inverted Umbrellas- Corporate Gifts With Endless Benefits
Umbrellas have indeed become part of the  life style of everyone in today's world; thanks to the better awareness of UV risks. Rain or shine, umbrellas help us safe from elements and to carry on with the daily tasks without hindrance.
The best part is that umbrellas are not plain and boring anymore. There has been a lot of evolution in styles of umbrellas. Inverted umbrellas will make a great choice to consider as your marketing tool. The incredible popularity has made it a reliable choice as promotional giveaways, corporate gifts and trade show accessories among others.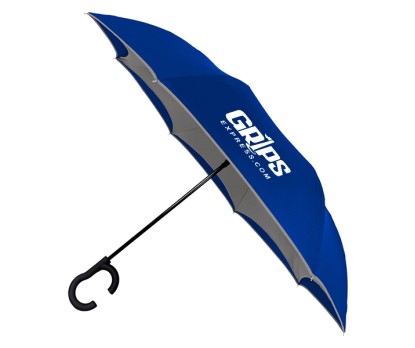 Now that the season of giving is on, employers will be busy scouting for some special and memorable giveaways for their employees and clients. Inverted umbrellas open and close the reverse way and are easy to operate. The best part is that these custom umbrellas will face upward when users close it, thereby trapping the rainwater within its folds instead of spilling it over like traditional umbrellas.
Reverse umbrellas of different types
Hands free reverse umbrellas have a black C-shaped handle that allows you to hold the umbrellas with the wrists while freeing up  the hands to use  cell phones and other devices. Simply put an arm through the handle and rest the umbrella against a shoulder, while your hands are free to send text messages or hold  the bags. As it closes in reverse fashion, these umbrellas keep the wet side of the umbrella away from you.
Advantages of using the reverse umbrellas
Opening and closing a standard umbrella in a crowded place is challenging as the risk of poking others is high . However as you open these umbrella upside down, you can easily open it is small spaces without annoying people around.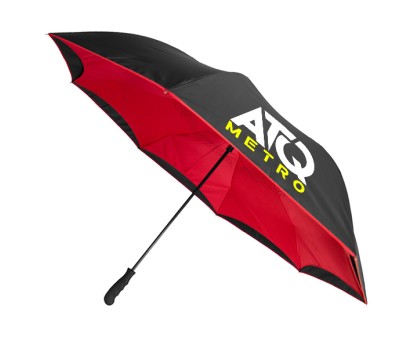 You can enter your car without the risk of getting wet
While  standard umbrellas may spill water in the car when it is wet, reverse umbrellas when closed will trap rainwater within its folds . It will close down to form a cone-shaped design that will easily retain the water when you close it and hold it till you pour it out by opening the umbrellas.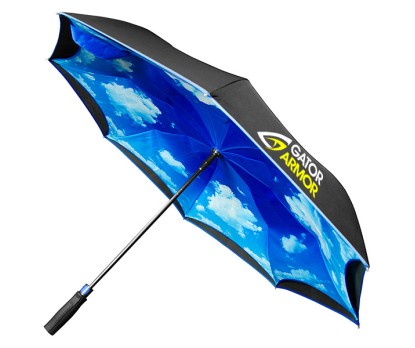 Wind resistant
While strong winds can cause ordinary umbrellas to flip, reverse umbrellas can withstand winds  due to its double canopy design.
Unique
If you are looking for unique handouts that will impress your clients , look no further than inverted umbrellas. Available in various models , colors and prints, these innovative umbrellas will relieve them of their rainy day woes. In addition, these umbrellas are something that they wont get every single day as free giveaways.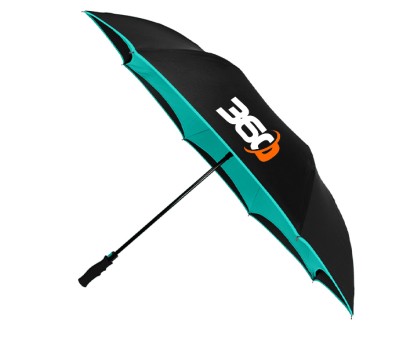 Functional
Umbrellas are giveaways with a high perceived value, which makes it a perfect giveaway for your high value clients and business associates, where ordinary gifts might not fit.
High retention
Umbrellas have the highest retention of over 14 months, which makes it a brand building machine literally! Just think of the impressions, these reverse umbrellas make every time your clients open it during outdoor events, golf holidays and game days.
Have something more to tell about custom reverse umbrellas? Reach out to us to join an interesting conversation.