Beat Down Bad Weather and Competition with Custom Umbrellas
Why wait for the weather to get better to get your outdoor branding on the move? Custom umbrellas hold the rare credit of putting your brand on a wide display in bad weather and get everyone talk and think about your message.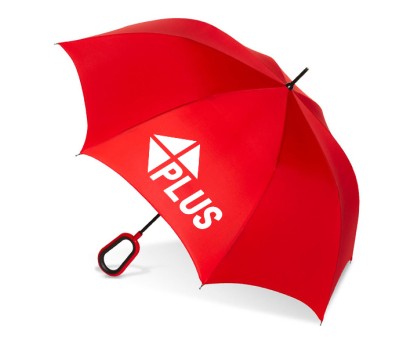 Everyone needs umbrellas to brace against elements and go about their daily business. It is this high utility that makes custom umbrellas a hot choice among marketers. Considering custom umbrellas for your next campaign? You're not alone! Umbrellas are consistently the top choice among most marketers thanks to its high perceived value. Highly useful , all round the year, umbrellas are available in a wide range of models and colors that will make it easy to pair up with any promotional theme.
Here are some of our most popular umbrella styles to help you get started.
Budget friendly folding Promotional Umbrellas: If you have a modest budget on hand, these small folding umbrellas are perfect. Designed to fold down into a small size that is perfect for any bag, yet big enough to protect your recipients from bad weather, folding umbrellas are available in a large assortment of colors. Print your logo on these popular umbrellas and you are all set to impress the travelling crowd and your employees.
Business Umbrellas: If you are looking for a classic corporate-style umbrella that works well for most companies, look no further than these wooden hook handle umbrellas. Get your logo printed onto umbrella panels so that passersby will take note of your message. Talk about a conversation-starter!
Golf Umbrellas: Need an umbrella to match your team or club colors? Then you'll want something like these golf umbrellas. The large canopy with various panel colors will suit most club colors and help you gain some extra attention during game days.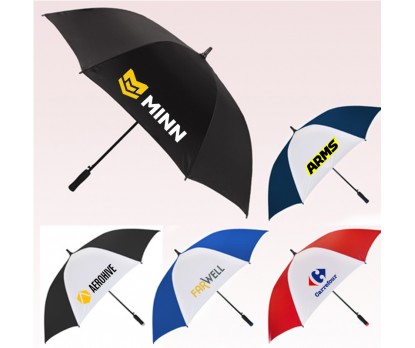 Standard Umbrellas: Easy to use and simple, these umbrellas look outstanding with corporate customization. Built to last long, standard umbrellas will easily enhance the populist tag of your brand.
Anti wind umbrellas: Let your audience put behind the nightmare of having to deal with an umbrella that gets toppled over by the winds with these strong and sturdy umbrellas. Designed to withstand high winds, these umbrellas are a great choice for the open greens and mild stormy weather conditions. Fiberglass frame and ribs and vented canopy are some of the features of anti wind umbrellas that will make it a great choice for the outdoorsy crowd.
Need further tips on custom umbrellas? Reach out to our customer service team today to get on board!