Make a Style Statement With Personalized Umbrellas
Umbrellas are handy items  in everyday life –all round the year! Now you can design your own umbrellas to impress the clients and customers and get across your message, Whether it is an emoji, artwork or taglines custom umbrellas will be perfect product for making a style statement. So be unique and stand out from the crowd and create your own style statement  with custom umbrellas.
Limitless options
The most interesting part of using custom umbrellas as your promotional items is its incredible variety of choices. From pint sized mini umbrellas to massive beach umbrellas and interesting inverted umbrellas and more, there is something special for everyone. Choose from a palette of colors and designs to match your theme and brand colors and create a perfect promotional item that aligns with your  theme.
Golf umbrellas: Light weight, wind and lightning resistant and massive, golf umbrellas are designed to enhance the golfing experience of the users. However did you know that  golf umbrellas also make one of the most effective promotional items? Businesses can get their message across and start off an interesting discussion among their audience. From classic models to those with a fun pop of colors and everything in between golf umbrellas are ideal for promoting all types of businesses and not necessarily only golf themed events.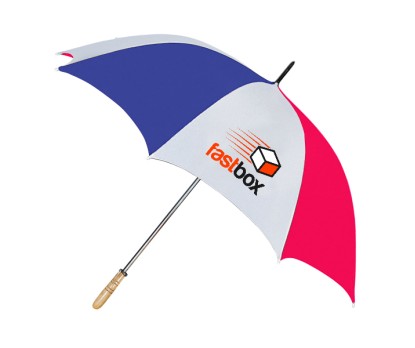 Standard umbrellas:  To stay safe from rain or the UV risks of the sun, people need umbrellas. So, if you have been looking for a promotional item that does not lose its relevance all year round, umbrellas could well be your choice. Standard umbrellas are available in easy to carry sizes and attractive color choices. Make it special by personalizing it with images, taglines or quotes. These umbrellas will look totally cool and different than an ordinary umbrella. Anyone who sees it will be tempted to know more about the brand they see over these stylish umbrellas!
Hands Free Stick Umbrellas: Umbrellas have evolved more than any other promotional items in recent times. Check out this interesting model of hands free umbrella with a grip loop handle through which the users can put their hands to keep the umbrellas in place all the while freeing up their fingers to text , to make calls over phone , to hold bags or books among others. Offered in a range of solid color choices ,your message and artwork imprinted on these will get a lot of eyeballs.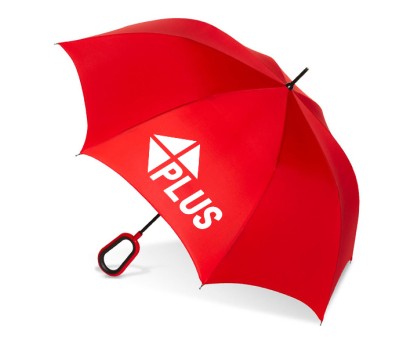 Telescopic Folding Umbrellas  Fashion meets functionality in these attractive auto open umbrellas. Offered in a range of vivid color choices these umbrellas  feature metal shaft with a rubberized handle and wrist strap for added convenience. Probably the most interesting feature of these stylish umbrellas is its matching sleeve with shoulder strap that makes them fashionable  and portable alike.
Who wouldn't love custom umbrellas? Elegant and beautifully crafted, these make great handouts not just for promotional events but for personal occasions like Mother's Day, family reunions, weddings and a lot more. Are you planning to make these crowd pleasers your promotional items?