Patriotic Themed Umbrellas – Great Gift Choices For Veterans Day Events
Veterans Day, which falls on November 11th every year will make a great occasion to remember the sacrifices made by the freedom fighters and honor military veterans. Businesses that wish to highlight their social commitment can think of some appropriate and useful handouts that will convey your message that the veterans are not forgotten.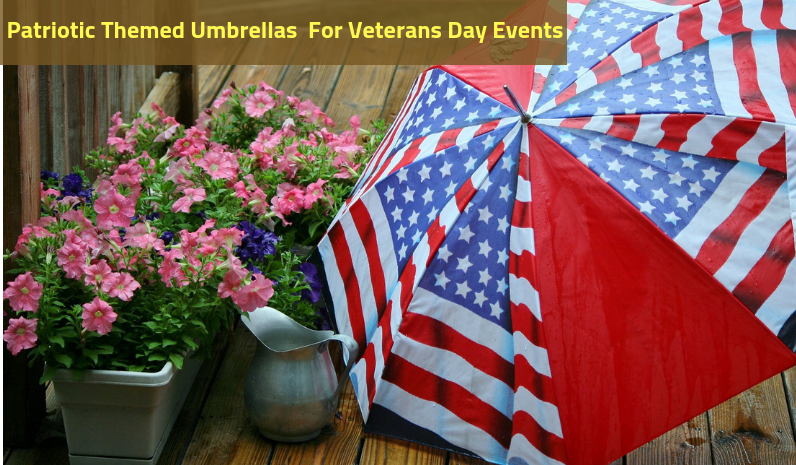 Star and stripe themed umbrellas will make a thoughtful gift on this occasion to celebrate the valor of the veterans and the American pride.  To make your selection process easy, we have listed out some of the best selling patriotic umbrellas
42 inch Auto-Open Patriot Folding Umbrella These elegant umbrellas flaunt an American flag theme that never goes unnoticed. The generous 42" arc canopy can be imprinted with your brand and message to make it an appropriate gift for Veterans Day. These can also be employed as fund raising items for the welfare of veterans and their family. Offered in a matching case with shoulder strap, these auto open folding umbrellas are available in striking patriotic design and colors. Umbrellas are durable daily use items for everyone and by imprinting your brand name, logo and essential messages on these patriot umbrellas, your brand will get a wide angle display for a long time.
Red, White & Blue 42 inch Arc Printed Umbrellas: These umbrellas that flaunt a design that closely imitates the color profile of the US National flag will make a great handout for Veterans Day that will be loved by most Americans. Businesses looking for a budget friendly gift will find these logo items a favorable choice during days of national interest. The ergonomic matte black plastic handle with wrist wrap and red & gray canopy with matching color case will make it eye catching and functional alike.
Red, White & Navy 58 inch Arc Vented Economy Umbrellas Ideal for Veterans day events and presentations, these umbrellas will stand up even during high wind conditions thanks to its vented design. The windefyer nylon canopy will make a high visibility billboard for your brand while the steel frame will enhance its strength. Customize these with your brand and message to make it a well retained gift during events of national interest.
Folding USA Umbrellas These custom logo 42 inch arc folding USA umbrellas will make a popular yet cost effective hand out for any advertising events like Veterans Day events. Order in bulk to make maximum savings and ensure that everyone in your list gets a gift.
Have you used custom umbrellas as Veterans Day handouts? Do share your feedback with us at our facebook page.