Promotional Umbrellas – Tips To Choose The Right Umbrella For You!
Let's be frank about it! Everyone likes to have a trendy umbrella in their collection. Not just as weather wear items but style accessories as well. So take advantage of the popularity of these logo items and provide your clients a gift that they will find useful. Umbrellas get used all round the year and your brand imprinted on the massive canopy will grab easy attention.
Imprinted umbrellas make a promotional product that is not forgotten about. Offered in a range of interesting models, colors and price points, custom umbrellas are easy to choose from.  The single most important reason for the enduring popularity of custom umbrellas is that they work! Reliable and popular, logo umbrellas will spread your message across a diverse audience group effectively. People of all age groups and demographics will find umbrellas useful.
Target Audience
Umbrellas are universally popular, which makes it easy for marketers to customize it in such a way that it grabs the attention of their target audience comprising of employees, existing customers or prospects. For employees, simple and functional models like standard umbrellas will make a great choice. However to attract the attention of the new leads you can think of some unique models like rebel umbrellas, which is something that your customers won't find elsewhere and will keep them intrigued about your brand. These unique umbrellas that fold inside out so that it won't make the inside of your cars wet will make a great choice for travelling executives.
What kind of company are you?
Umbrellas are versatile custom gifts that can be used to promote all types of brand and businesses because it can efficiently reflect your brand in the type of branded umbrellas you offer. Stylish designs like transparent umbrellas or subway map custom umbrellas are some great choices to consider. These designs will easily highlight your individuality as a brand.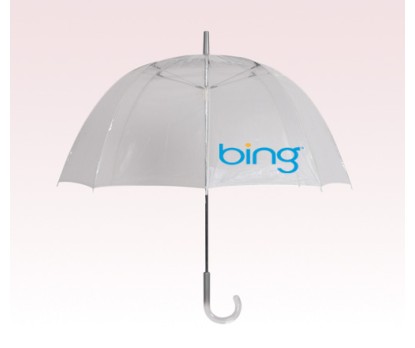 If you are a travel company, you might want to offer your customers something like mini umbrellas that can be used on the go and reflects the dynamism of your brand. Looking for a perfect employee gift that inspires the employees and make them feel well appreciated? Top folding custom umbrellas will make a great choice. These handy two tone umbrellas will make a great talking topic in their friends' circles and encourage employees to be brand loyal.
Budget
The trump card of custom umbrellas is that it is offered in a wide range of price points, which makes it a perfect custom gift for a wide spectrum of promotional activities.  Obviously different companies have different promotional budgets available to them. But when you use custom umbrellas as gifts, a modest budget won't prevent you from getting the most of these branded items.
How was your experience of using custom umbrellas as your promotional items? Do share with us at our comments section. We would love to hear from you.