6 Best Autumn Umbrellas That Are Worth A Second Look!
A new season means new style in not just apparels but also accessories and weather wear items like umbrellas. So, it is time for you to take a close up view of some of the most trending styles and patterns in umbrellas for the fall season that is likely to set off a huge fashion trend. Umbrellas will let the users enjoy the outdoor fun even during the evening showers and wet spells. Explore the next season's colors, fashion prints and inspirational promotional umbrella models that are likely to be in vogue among marketers.
Colors and shades!
Double cover umbrellas with a fully sublimated interior and double cover design will make a hot choice during fall. Apart from creating an impressive brand image, these all-fiberglass custom full color umbrellas will make a highly functional and reliable weather wear item for the unpredictable fall weather conditions.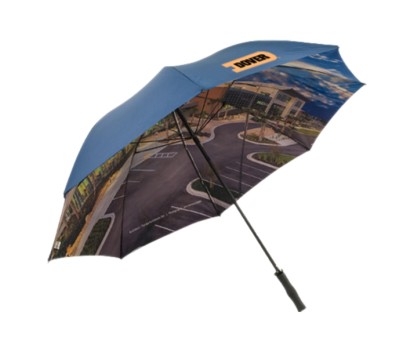 Rainbow colors
Unveil a dazzling spectrum of colors with these custom rainbow umbrellas that are likely to be seen more often in catwalk ramps and resplendent life alike this season. These bold contrasting colors will complement the fall season casuals and floral prints.
Vintage prints
If you are a fan of vintage fashion, these polka dot umbrellas will be a perfect choice. It will make a perfect way to accessorize the fall colored apparels and to add a fashion twist to the personality of the users. For marketers, these logo items will make a great way to get their message across in a subtle and fu way. Customize it with a tagline, mascot or brand to make it unique.
Animal prints
Animal patterns like Leopard 43 inch Arc Totes Auto-Open/Close Umbrellas  are likely to be big in fall and winter this year. Customize these wild creature-inspired umbrellas to pique interest in your product and make heads turn. Your recipients too will love the limelight that these umbrellas will bring. Keep it subtle with just your brand or tagline to make it a well cherished fashion accessory or collectible alike.
Checkered patterns
Check out these checkered pattern umbrellas, which will go well with the cargo trousers and hardwearing fabrics for the outdoor fall season. Turn it into a wonderful promotional business gift on a budget by customizing these with your brand and message to make it a great billboard that is hard to resist!
However, along with these fashion trends, spare a thought at the functional features and durability to make sure that the umbrellas can withstand the speedy winds. Anti wind and fiber glass models will make great work umbrellas that your recipients can rely on.
 Browse our well stocked line of custom umbrellas to choose a model that matches your needs.