How Custom Umbrellas Could Save Your Wedding Day
Autumn is a great time to tie the knot outdoors and  soak up the fall colors and the nip in the air. However, on the flip side, the couple may have to endure the possibility of facing showers during the event. Don't you worry! Wedding umbrellas will not just make an eye-catching prop that will enhance the décor and add a quixotic charm to the event but save your wedding day from unexpected showers as well.
Custom umbrellas will make great wedding gifts for guests who will have a handy item to stay safe from the surprise showers but a delightful wedding day token that will recreate many fond memories of the day. The generous imprint of the umbrellas will make a perfect canvas for you to place your message, and artwork.  Another big plus of custom umbrellas is that they make quirky photo props that make the wedding moments special.
For couples choosing an outdoor wedding instead of a traditional church ceremony, custom umbrellas will make a great way to keep the guests safe from showers. These will double up as wedding day gifts to send your guests home with.
Here are some great wedding umbrella models that you can consider
Auto-Open Wedding Party Umbrella will make heads turn due to its attractive metal shaft with plastic handle and carrying strap. These 44" umbrellas easily fold to 15", which makes it easy to hold in bags and totes. In addition to the classic white umbrellas, these wedding brollies are available in a range of color combinations as well to match your wedding theme.
Red Floral Ruffles Umbrella: These finely created masterpieces will add a pop of color and luxury to the wedding day with its brilliance and color. Customize these with your message or wedding date or initials to make it truly special. The floral ruffles, deluxe tassel embellishment, as well as gold finish on its ferrule will add a royal touch to the wedding umbrellas that will make the couple and the wedding entourage look truly ethereal and out of the world. Should we say that the wedding snaps will look amazingly beautiful?
Bubble Custom Transparent Umbrellas: Will keep the couple dry even when they wish to take some romantic snapshots as rain drops splatter around. One of the most popular among wedding umbrellas, these sturdy umbrellas will keep the canopy upright against high winds and downpour, thereby making a safe weather wear item during fall events.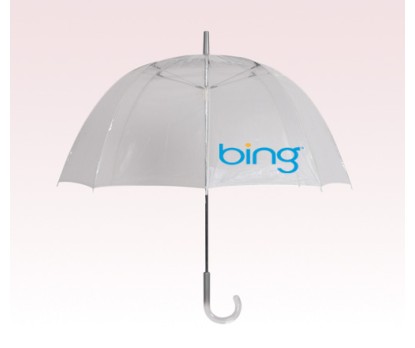 Which of these wedding umbrellas are you planning to use on your wedding day? Share your thoughts with us at the comments section.