The Best Custom Umbrellas You Can Buy- Must read
Custom umbrellas make a great handout to put your brand and message on a wide display all round the year. Bad weather can spoil your plans, outfit and even your mood but when your customers have a great umbrella in hand, they can save their day and get on with their plans. Unlike most other custom gifts that are season specific or audience specific, umbrellas are something everyone needs all round the year.
Umbrellas have been themes of chart busters and hit songs and have even been featured in classic movies like "Mary Poppins." However, not many of us give it a serious thought until the moment we may need one. Interestingly, most people won't even remember to buy a custom umbrella for their own use, which further drives up the importance of custom umbrellas as free gifts.
Umbrellas are thought to have originated at least 2,000 years back in various parts of the world including Ancient China, Ancient Greece and beyond. Though ancient umbrellas were ornate and symbols of their royalty and prestige, modern umbrellas are more functional. Light weight and compact, umbrellas have evolved to be stylish accessories and props apart from weather wear items. The high utility factor of custom umbrellas will make it a great promotional item for marketers to get their message out and spread their word.
Here are some of the best umbrellas models that can be considered
Antiwind umbrellas
A good umbrella will not just keep the weather elements at bay but will remain in shape even in high winds. It should be compact and easy to carry all the while being sturdy to withstand the wind conditions. These umbrellas will keep your customers dry and protected and put your brand information on a proud display even in menacing winds.
Totes umbrellas
If your equation of an ideal umbrella is that it should be small enough to be stored in a backpack, handbag or the glove compartment of your car, then look no further than custom totes umbrellas. Customize these with your brand and message to make it a great hand out. Perfect for road trips or commute, these umbrellas are one of the best selling models in custom umbrellas.
Golf umbrellas
There are times when your life turns bigger, better and merrier as in the event of golf holidays or picnics. That is when you may need umbrellas that are large enough to shelter two or more people. Patio umbrellas, market umbrellas or golf umbrellas are good examples of umbrellas with massive canopies. These will give a wide angle display for your brand and message as well.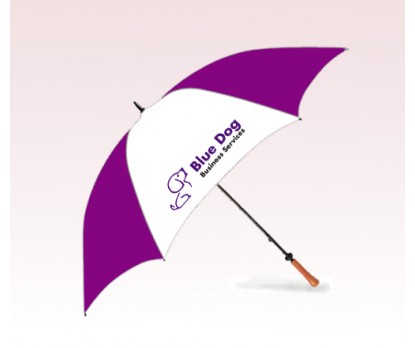 Apart from these popular models, umbrellas are available in various quirky models like inverted umbrellas or double canopy models. Browse our comprehensive collection and choose a model that matches your needs.