Introducing The Best Bubble Umbrellas For The Wet And Wild Winter Season
Bubble umbrellas have a fairy tale charm about them because these transparent umbrellas will keep the users dry even while allowing them to see the pounding rain outside! Hugely popular as wedding favors and photo props, these umbrellas will make a great gift for everyone who knows a thing about fashion and function. The best thing is that bubble shape provides maximum protection and coverage. Offered in various models including those with colored accents or reflective borders or the vintage models with deep canopy and crooked handle- the choices are all yours when you opt for these transparent umbrellas.
Here are some best-selling models that you will love for sure.
Arc Clear Bubble Umbrellas with Hook Handle: A classic manual-open umbrella with a solid metal shaft, which is made to last long! You can count upon this sturdy umbrella even if you live in a rainy corner of the world and use it heavily. These Clear vinyl w/ 190T nylon trim umbrellas with bright trim colors make a delightful addition to your marketing mix. Colored plastic tips and ferrule caps ensure more safety to these custom umbrellas. These logo items make great hands outs to impress family audience.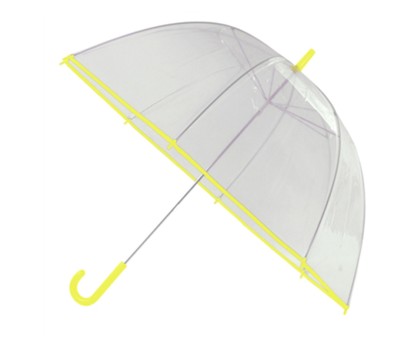 48 inch Arc Bubble Customized Transparent Umbrellas: These manual open transparent umbrellas have a steel windproof frame, which enhances its stability and strength. The bubble canopy will grab easy attention and marketers can rely on these crowd pleasers to get their word out. Order these umbrellas in bulk and gain favorable benefits.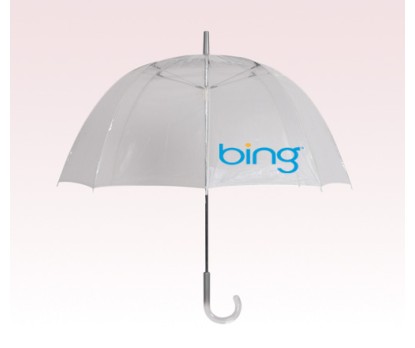 48 inch personalized Bubble Promotional Umbrellas w/ 6 Colors: make your first brand impression the best with these bubble promotional umbrellas that will generate a lot of interest among your audience. Offered in 6 assorted colors, these manual open nylon umbrellas are well suited to promote all types of brands and businesses.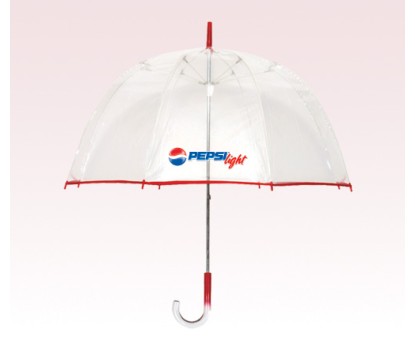 Yellow 48 inch arc Bubble Lollipop Umbrellas It makes a great gifting choice for marketers who wish to be remembered for their brand as well as gift. The bright yellow trim will show up from a distance and easily grab the attention of anyone who sees it. Ideal to promote all types of events like concerts and game days, these transparent umbrellas will make a sound reason for your recipients to talk about your brand. These umbrellas are well suited for color themed events, parties, weddings and concerts among others. Customize these with your brand and message to make it a high visibility billboard for your brand that is hard to miss!
Pros: A classic umbrella that offers complete rain protection for not just the  head but upper torso all the while ensuring easy viewing for the users.
Cons: Might not be suitable for use with more than one person
Are you planning to make these delightful umbrellas as your promotional swag? Tell us your ideas at our facebook page and get featured!