The Vented Pinwheel Umbrella- An Umbrella That Has A Fun Toy Feel
We all have grown up with the simple fun toys of pinwheels that are designed to spin when blown by the wind. Now you can bring alive these nostalgic childhood memories with these Vented Pinwheel Umbrellas. Give a SPIN, enjoy the colors and stay safe from the weather elements with these exciting umbrellas that will make you fall in love with the outdoors in all seasons!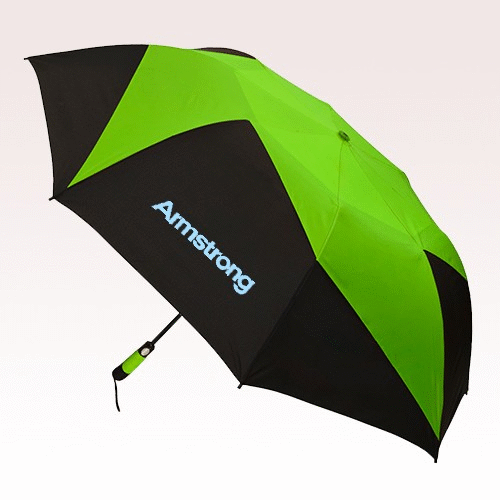 There are not many umbrellas in the league of these brilliantly colored and eye catching umbrellas. The colorful vent design, which stands out against the black canopy will make it a show stopper everywhere ensuring that the brand message is seen by everyone. These versatile gift items are well suited for all genres of audience including men and women.
Apart from an attractive design, these custom umbrellas have an extra-large 58″ auto-opening arc that is well complemented by a two-tone foam handle with wrist strap. The sturdy black metal shaft and fiberglass ribs will add to its durability. Did we say that these umbrellas also have a matching fabric case with shoulder strap and a wide tie all of which can also be used as imprint spaces? The shape of the vent will ensure dramatic opportunities for you to imprint your message.
These will make perfect choices to promote golf leagues, schools, fashion brands and more. Offered in six different brilliant color combinations, anything imprinted on these will enjoy a panoramic display. Be it as store promotional gifts, tradeshow handout, loyalty gifts and corporate gifts, these long lasting umbrellas will enjoy a long retention and warm welcome.
Let's be brutally honest about it! Umbrellas have always been popular daily use items that nobody can do away with even in this robotic age. Be it as a shield from the adverse weather elements, as a trendy accessory or photo prop, umbrellas enjoy perennial popularity. An average household will have at least 4-6 umbrellas depending on the number of members. Be it for home, car or office, umbrellas are omnipresent in the right sense!
Customize it with interesting slogans, artwork or message to grab easy attention and see how heads turn when your recipients carry these spectacular umbrellas that are designed to grab headlines. Interestingly, these umbrellas make excellent talking topics as well as nobody can resist talking about these good looking umbrellas that are not just functional but fashionable as well.
Planning to drum up support for your nonprofit organization, spread awareness about a social cause or promote your home team or more, these umbrellas can be used to pack a punch to your promotional events. These can even be used in a low key street corner marketing to grab easy attention of the crowd.
Shop right away and let us know your feedback about these custom umbrellas in our comments section.