Add A Fairy Tale Charm To Your Business Promotions With Custom Patio Umbrellas
Patio umbrellas can be used for a million odd reasons! Deck up the outdoor area with a patio umbrella of matching décor, give a pop of color to your garden or turn the extra space in front of your café or shop to a cozy outdoor area for your customers and more. Custom patio umbrellas are available in a range of colors and patterns that you can find a perfect model that match your theme or color. Over the years, these custom patio umbrellas have been widely utilized for recreation purposes and they have been proven as an outdoor decoration tool and brand builder.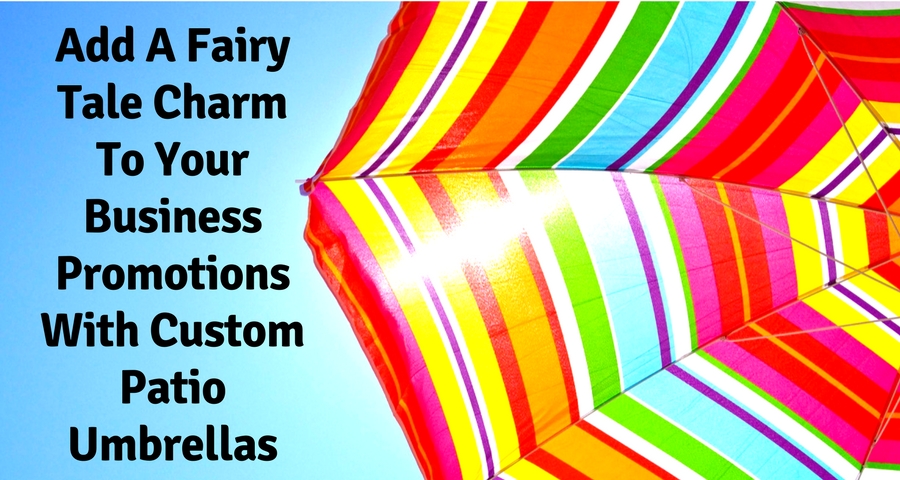 Custom patio umbrellas have been one of the most popular among promotional umbrellas for cafes and bistros that have seating along the sidewalks. Patio umbrellas can be used as kiosks at outdoor fairs, ball parks or in front of stadiums and shopping malls. The bright colors and the expansive canopy will grab the attention of people from a very far distance. Put your brand, artwork or call to action message on these eye popping umbrellas and see how these will make people pause and take a second look on the message.
Commercial patio umbrellas made with heavy duty material are designed to look good and last long in the outdoor weather conditions for a very long time. Available in several models and sizes, these umbrellas will work for your brand and scream out your message all its life time once you put it on! Custom patio umbrellas have one of the lowest costs per impressions as it will continue to enhance your brand recall for a very long time since your recipients use it for the first time.
72 inch Economy Patio Umbrella
Grab instant attention with these custom 72" economy patio umbrella offered in 9 different colors. These umbrellas can easily show up in a crowded market place due to its huge and appealing size. Customize it with your brand and message to make it a high impact promotional item for restaurateurs, hotels, café's, insurance companies, wedding planners and others, who wish to make a distinct identity for themselves at a market place.
84 inch Wind Proof Patio Umbrella
These custom 84" wind proof patio umbrella will make a perfect promotional choice for businesses who wish to make their brand stand out in the market place. The sturdy double hook frame system with air vents will make it a perfect choice for brand promotions in all seasons. Restaurateurs, outdoor catering units, educational institutions, insurance companies – can employ this umbrella to promote their services in crowded market place. The 400 denier polyester material with silver coating will enhance its visual appeal and will make your imprint stand out. Ideal for windy conditions and inclement weather, these outdoor patios will add dollops of charm to even a low key promotional campaign.
9 ft x 8 Panel Patio Umbrellas
Bigger the better! These massive patio umbrellas with crank can grab the attention of anyone from several feet away. Available in several attractive colors, these patio umbrellas feature 9x 8 panel, black powder coated aluminum frame, black fiberglass ribs, and fade resistant olefin cover with valance and wind vent. It is a perfect choice for marketing sports events, golf leagues, insurance companies, banks and education institutions among others. Long lasting and maintenance free, these attractive umbrellas will make portable billboards for your brand and message for a very long time.
We have a lot more sizes in patio umbrellas. Do check it out and make sure to share the post and join our conversation.