Celebrate The Change Of Season With Custom Umbrellas At Discounted Prices
Custom umbrellas make promotional items all round the year. Be it sun , snow or rain, scores of umbrellas will come out into the open and anything imprinted on these will never fail to grab the attention of people around. An umbrella is not just a weather wear item but a great style prop, an accessory and a style statement.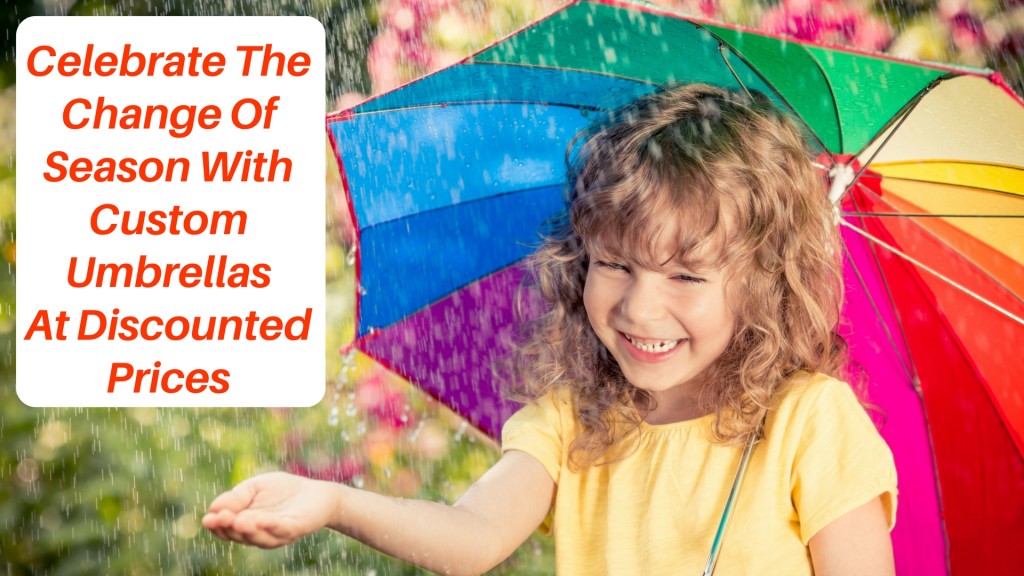 Spring season has sprung! So, why not celebrate the spring colors with our custom umbrellas that are offered at discounted prices now. Here are some of the models that you will find interesting.
Personalized Auto Open Folding Umbrellas with Hook Handle: Think colors, think these Auto Open Folding Umbrellas with Hook Handle that are available in a palette of vibrant colors including Forest Green, Orange, Pink, Purple, Red, Royal Blue and White. The hook handle will give it a retro touch and a quixotic charm while the color choices will make it a favorite choice among all genres of customers. Use it to promote your brand or event, use it as employee gifts or loyalty gifts. No matter how you wish to make use of these custom umbrellas, these amazing gifts will never fail to impress people.
Mini Manual 3 Fold Umbrellas: Offered in the spring colors of Yellow, Orange, Black, Lime, Navy Blue, Pink and Sky Blue, these 44 Inch Arc Custom Lightweight Mini Manual 3 Fold Umbrellas will make a great billboard for you to put your brand and message. Immensely loved by people for its 3 fold action and compact size, these umbrellas will surely enhance your brand visibility manifold during tradeshows, corporate events and fund raising events among others. While the light weight aluminum shaft and frame will make it handy the fiberglass support ribs will enhance its strength and durability.
Clear Bubble Umbrellas: Enjoy the rain and watch life go by without getting soaked up, as you walk under these 47 Inch Arc Clear Bubble Umbrellas with Hook Handle and see how many heads turn! These clear bubble umbrellas will make a great wedding favor, party gift and promotional gift to promote wedding planners, golf greens, fashion stores and boutiques. Two people can stand under these custom umbrellas comfortably and seek protection from rain. Made up of Clear vinyl w/ 190T nylon trim, these umbrellas are available in Clear with Pink, Cyan, Royal, Red or Yellow Trim colors. If you have fallen in love with these pretty brollies shop right away as the prices have dropped like never before!
Golf Umbrellas: There is nothing exciting as a game of tee under the clear blue sky during the spring season. Check out these 60 inch Arc Customized Golf Umbrellas w/ 17 Colors that will not only draw public attention in the packed golf arena, but also attracts lots of potential customers to your brand. Put your message, artwork or call to action messages on these nylon umbrellas, which are designed to last long and look great for a very long time. The best part is that the prices of these stunning umbrellas have been slashed, which means that you have yet another reason to plan a golf weekend soon!
We have discount offers for a lot more umbrella models. Browse along and choose a model that matches your needs. Hurry! Stocks are flying off our shelves literally!