Top Ways to Use Umbrellas For Marketing
Umbrellas are something everyone needs in their everyday lives. Apart from being a weather wear item, an umbrella is also a fashionable accessory and even props for most people. Available in a wide range of models and colors, umbrellas offer something special for everyone. Probably what makes logo umbrellas a great choice  is the incredible customization options that they offer.
Make the most of the generous imprint space to keep your brand and message on a wide angle display. Think beyond the basic information like your logo by adding interesting taglines, artwork or something more that will stand out in style.
Here are some popular ways to include custom umbrellas in your promotions.  
As College Orientation Gifts
College orientation programs are indeed events where the new students understand more about their school brand. Logo umbrellas in school colors will leave a lasting impression in the minds of the students, and make your first meeting with the students extra special.
As Referral Program Gifts
Referral programs turn customers into sales partners by recommending potential customers they know to either buy or close a deal. So, you can use a branded umbrella as one of the rewards for a referral program. It will also make your brand more popular and make new leads. This small yet thoughtful gesture will indeed go a long way in boosting your sales and increasing referrals and repeat sales.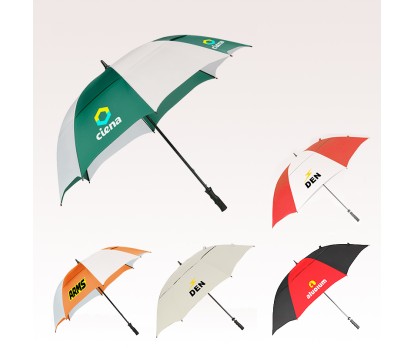 As awareness gifts
Make your awareness events popular by handing out custom umbrellas. It is indeed the best way to get your message across to a wider audience and make your social cause popular. Umbrellas are practical items that people use every day. So, by customizing it with your awareness message, you can enhance your fan base and increase donor support. Branded umbrellas will make an incredible choice thanks to its complete customizability and utility. In addition, it can also be used as volunteer gifts, donor appreciation giveaways or more. No matter how you wish to use logo umbrellas, your brand on it will get a lot of attention and appreciation.
For golf promotions
Golf corporate holidays are obviously a great occasion to order branded umbrellas by the dozens. Your message imprinted on golf umbrellas will definitely get a great market exposure and a wider reach. Turn your golf tournament into your promotional marketing staging ground by handing out logo golf umbrellas. Put on your creative caps to customize golf umbrellas. The generous imprint surface will highlight your message and artwork. Since golf is more popular among elite clientele, your brand will get a high exposure in these select circles as well.
Have a better idea to use umbrellas in your promotional events? Share your ideas with us on our facebook page.