Transparent Umbrellas As Wedding Favors For Winter Weddings
Winter is probably the best season to tie the knot for budget conscious couples. From hotels devoid of the crazy holiday crowd and the venues offering the best off season rates, there can't be a better deal to ask for!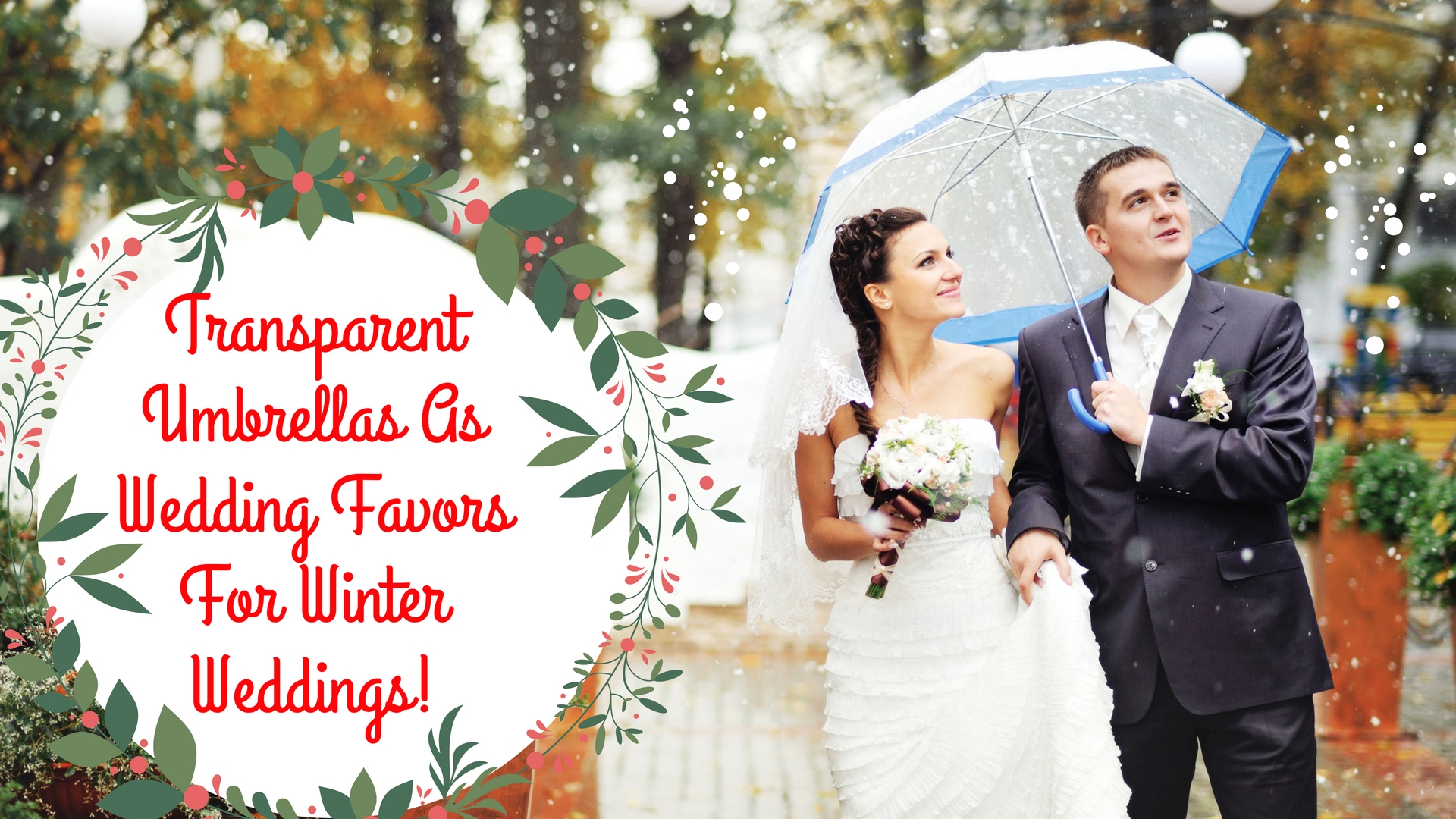 Winter weddings are very romantic with the snow clad settings in the background. Just think how beautiful the photos would look against a snowy background! The best part is that it is also possible for the sun to shine in winter, which means you could still have a tryst with the sun on your wedding day as well.
Winter weddings offer equally lovely wedding favor gift choices for the guests. One of the all time favorite gift idea for winter weddings has been wedding umbrellas. The clear bubble- like umbrellas have always been our top sellers in wedding favor items. You can imprint your wedding date, initials or thank you message on these umbrellas in colors that match your wedding theme to make it downright personal and interesting. Ideal for men, women and children, these wedding favors are something that all your guests will cherish for a very long time. These allow your guests to see through to navigate crowded streets even in blinding rains while the dome shaped design and the deeper canopy ensure better protection from the wind and the rain. Every time they use these against rain, they will be reminded of your wedding glimpses.
Here are some of the transparent umbrellas that you will find interesting
48 inch Arc Clear Umbrella The delightful transparent design and the massive imprint area of these custom 48" arc clear umbrellas offer a large imprint space for you to print your quotes and messages. Your wedding guests will surely look good in these transparent umbrellas in the outdoor photo shoot at the back ground of the snow capped trees and plants. The best part is that your recipients will surely find these logo umbrellas useful as weather wear items and fashion statements for a very long time even after the wedding.
52 inch Bubble Custom Logo Umbrellas: The clear canopy ensures unobstructed vision under low visibility conditions like snow and rain. The accent color trim, handle and tip of the bubble umbrella give it a unique look. The steel shaft of the umbrella makes it sturdier while the curve handle makes it easy to handle and hang. It offers a long time promotion for your brand.
Promotional Clear Bubble Umbrellas with Hook Handle These transparent bubble umbrellas stand out for its beautiful yellow rim, which makes it a perfect choice for color themed weddings, fall season yellow color settings and more. The bride and groom will look surreally beautiful under these umbrellas and the guests will love to pose for the snap shots with these bubble umbrellas as props. Well received and retained, these logo umbrellas make perfect wedding favors that will get used for a very long time even after your wedding bells stop chiming!
We have a lot more choices in clear umbrellas and you are going to love it for sure! Start shopping right away and see how your wedding guests will feel right on top of the world when they get these fashionable umbrellas as wedding favors. Happy shopping!