Umbrellas have Evolved to be  The Latest "Must Have" Fashion Elements
Umbrellas are available in a wide range of models right from fashion umbrellas to massive golf umbrellas, pretty wedding umbrellas and beach umbrellas among others. There are interesting models like inverted umbrellas and multifunctional models like umbrellas with speakers and a lot more.
The word umbrella has originated from the French word "ombre", meaning shade or shadow. It is interesting that umbrellas that were designed as a sun protection item has been getting used more to stay safe from rain.  Fun apart, umbrellas are not just high utility accessories in everyone's lives. These have come a long way from being just everyday items to make popular fashion accessories today.
 Here are some umbrella models that will drive up the fashion quotient of the users, double up as photo prop and even décor items during weddings and parties-
Square golf umbrellas: The unique square shape that is so uncharacteristic for an umbrella is the trump card of these golf umbrellas. Loads of fun, these umbrellas will put a smile on your recipients face. It's actually what's on the inside that counts.  Lightening and wind resistant, this promotional 62" vented square golf umbrella has a matching fabric case with a shoulder strap. The fiberglass shaft, ribs, ferrule and tip cup plus the vented design of these custom printed golf umbrellas make it long lasting and sturdy. Big enough for two persons to use, these promotional umbrellas get easily noticed on a golf course.
Bubble umbrellas have become a very popular fashion statement for fashion connoisseurs throughout the world. The transparent canopy will set these brollies apart from the boring traditional umbrellas that you see just about everywhere. These unique umbrellas will look even better with your brand and message imprinted on these.
Inverted umbrellas: Forget about the nightmare of getting wet from the rain drops that fall all over you every time you fold a wet umbrella. These umbrellas fold the opposite way there by keeping the rain water within the folds of the umbrella without letting it to spill over.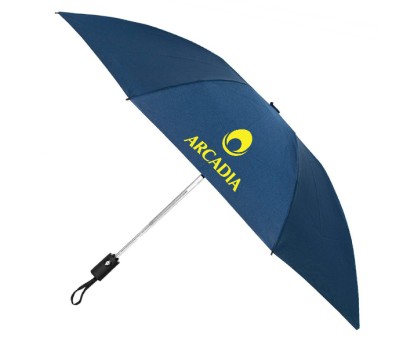 Blue Skies Auto Open Folding Umbrellas The cloud pattern on interior canopy makes them really unique. These custom auto open/close umbrellas have a classic wooden handle with wrist strap, which makes it  easy to hold and carry. Two-section folding metal shaft and dual layer polyester canopy along with a matching case are the other main features of these pretty umbrellas.
Double Cover Umbrellas look stunningly beautiful inside out! The fully sublimated interior will grab the attention of the users everytime they walk under these umbrellas while the world outside will be left in awe with the solid imprints on the outer canopy! These look great in instagram pictures and videos, which will enhance your fan following as well.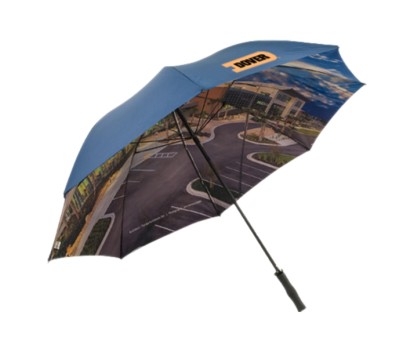 Planning a fashion makeover anytime soon? Shop for these trendy umbrellas that complement your fashion sense!