US Umbrellas Site Got A Little Trendier Just In Time For The Outdoor Season
Our new website is out; and it is celebration time for our patrons and the team behind this smart makeover.  Our aim has always been to ensure a smooth and enjoyable shopping experience for our customers. The easy to read fonts, neat layout and the user friendly features of our new website will enhance the shopping experience for sure. The timing can't get any better as well; with the golf season, the beach and BBQ party time and the outdoorsy activities in full flow, everyone may love to add these smart umbrellas to their collection.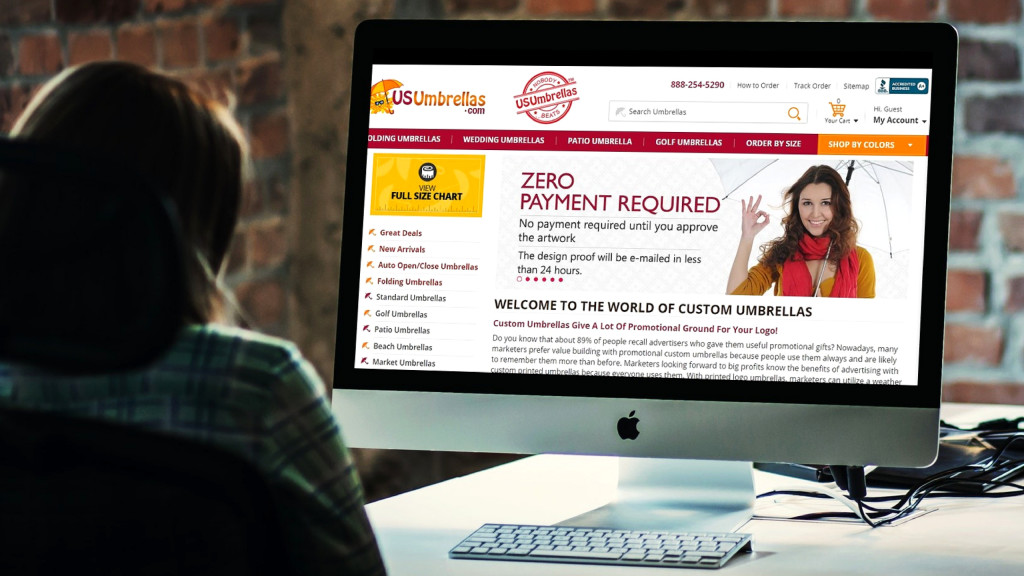 A favorite hang-out spot of marketers and umbrella fans, our website takes credit to a diverse collection of umbrellas in a range of color, patterns and models. You can choose custom umbrellas in all possible price rates starting from as low as $3 and going up to $160!
Comprehensive collection
Apart from a lively design and a spanking new layout, our online store also has a complete line of the latest and the most trending umbrellas you can ask for. From the magnificent golf umbrellas to the quirky beach umbrellas with coolers and speaker, the inverted rebel umbrellas, the top folding umbrellas and lot more, we have the best collection of personalized umbrellas at unbeatable prices. We have even included a full size chart in our home page, which will give you a glance of the different sizes of umbrellas available with us.
Great prices
We at US Umbrellas offer an unbeatable price advantage across the whole range of our custom umbrellas and that is one of the reasons that has made our stores a hot favorite among our customers. Umbrellas make great handouts as family reunion gifts, milestone celebration gifts, wedding shower favors , tradeshow swag, fund raising items and a lot more. Everyone needs umbrellas in their daily lives not only as weather wear items but as props and accessories as well. Check out for the best deals and offers here. Celebrate the change of season with these eye catching umbrellas that bring together form and functionality.
Unbeatable Customization options
The massive canopy is the trump card of custom umbrellas. Imprint your brand, mascot, tagline or message in brilliant colors on the canopy, inner surface, handle or even the carrying case to make the optimum use of the imprint space. If you wish to make heads turn why not shop for these full color golf umbrellas that literally burst in a riot of colors. Wish to adopt an understated theme? Imprint on the carrying case or umbrella's handle as in this model of Black & Blue 37 inch Arc Folding Custom Logo Umbrellas. Options are all yours when you are choosing umbrellas as your custom gift.
Shopping is as easy as 1-2-3
Shopping at our site is simple and swift. Just select the umbrella of your choice, the quantity and the imprint color. The artwork can be uploaded after the check out and if you don't have a design ready, we can design it for free.
Let us know your feedback
Your feedback is precious to us. Let us know your comments and compliments, which can go a long way in making our services still better. Did you like the design of our new website? Share your thoughts; we would love to hear from you.